WittCAM Team Explores Affinity Programs
September 9, 2009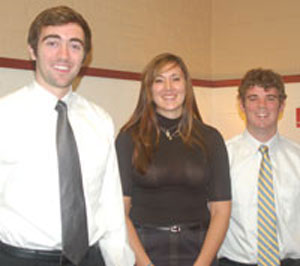 Springfield, OH—During fall semester, Wittenberg Center for Applied Management (WittCAM) project management assistants Kevin Boedeker, Leslie Clark, and Mark Kuhlman will be working directly with Wittenberg's own The Wittenberg Fund. This team will be working alongside director Chris Norman and assistant director Chelsey White in studying and developing a model affinity program between the Wittenberg Fund and Witt's current athletes and athletic alumni. The team will work to use their model hopefully to strengthen not only Wittenberg's alumni relations in athletics, but all alumni relations in all affinity programs throughout.
Kevin Boedeker '10 is a senior Management major/Political Science minor focusing in Human Resources from Fort Wayne, Indiana. Kevin plays an active role at Wittenberg academically through memberships of both Tau Pi Phi, a management honors society, and Phi Eta Sigma, a national honors society. In addition to this, Kevin is a member of both WittInvest and WHRMA. Outside of the academic sphere, Kevin participates in the Wittenberg Choir, intramurals, and is active in Beta Theta Pi fraternity. With experience through internships at both UBS Financial Services and the Allen County Public Library (as the human resources intern) Kevin is hoping to get his MBA after graduation.
Leslie Clark '10, from Marion, Ohio, is a Wittenberg senior double-majoring in management with a concentration in finance, as well as Economics. Clark is a member of Wittenberg's nationally ranked varsity volleyball team, the Secretary of the Wittenberg Human Resources Management Association, a member of WittInvest, as well as a Dean's list student and a member of Tau Pi Phi, the national honors society of Business and Economics. She worked four years at the Fahey Banking Company, gaining experience in both customer service and retail banking. She plans a career in either management or financial services.
Mark Kuhlman '10 is a senior management major with a concentration in finance and accounting from Waterville, Ohio. Mark Kuhlman is a member of Tau Pi Phi; a management honors society and serves on the Build a Better Wittenberg committee and Student Senate Appellate Board. He is an active member of Beta Theta Pi, serving as Social chair with previous positions of Risk Management chair, Steward, and intramural team captain. Over the summers, Kuhlman works for his family-run ready-mix concrete and building materials company Kuhlman Corporation as a quality control intern. Upon graduation, Kuhlman plans to attend graduate school to receive his MBA.
###
Wittenberg Center for Applied Management (WittCAM): The Wittenberg Center for Applied Management, better known as WittCAM, offers alternative coursework to upper-level students who are focused in management. As an alternative to a classroom-based course, WittCAM provides students with the opportunity to serve as consultants to businesses, government agencies and not-for-profit organizations. Students and organizations have a choice of opportunities, including: Small Business Institute, Project Management Assistance, Management Internship, and the Creative Advertising Partnership. Students may work in groups or as individuals on projects. Some projects require specific management course prerequisites; these vary depending on the nature of the project. Directed by Professor Pamela Schindler, more than 450 students have been involved in WittCAM projects in the last 30 years.