WittConsultants Join Forces with Local Pub
September 14, 2010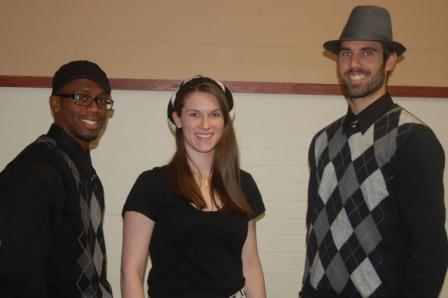 Springfield,OH—This semester, the Wittenberg Center for Applied Management is assisting a local pub.  Senior WittConsultants Jumar Guy, Josh Mason, and Tarah Pike will be assessing patron attitudes and preferences, studying the practices of pubs serving similar target markets, performing a marketing audit and making marketing recommendations. The team plans to have the consultation completed by early December.
Meet the WittConsultants
Jumar Guy '11 is a senior Business major at Wittenberg University from Fort Wayne, Indiana.  He serves as the president of CBS-Concerned Black Students-the black student union on campus that helps to retain, prepare and make current student a part of the organization aware of the outside world after college.  He is a representative on the Student Finance Committee that helps to allocate the budgets given to other organizations on campus. He works for Tiger Club which helps to promote sporting events occurring on campus.  He also works as a technical assistant for all events on campus. His future aspirations include going to graduate school in either sales or sports management.
Josh Mason '11 is a senior Business major at Wittenberg University from Columbus, Ohio.  Mason is active with WittInvest, managing a portion of the school's investments.  In college, Mason played basketball for both Otterbein College and Wittenberg University; he also competed with Otterbein's speech and debate team.  He frequently volunteers at the Nearly New Shop, a not-for-profit retail organization in Springfield whose proceeds support local programs.  His future aspirations include going to graduate school and pursuing a career in marketing or financial management.
Tarah Pike '11 is a senior communication major at Wittenberg University from Columbus, Ohio. She recently completed an internship with Mills James Productions participating in a variety of marketing and production-related tasks. Also, Pike currently holds a part-time position at Jule, a jewelry and accessory store, gaining customer service and selling experience. At Wittenberg, Pike serves as social chair in the Gamma Phi Beta sorority, planning events for Gamma Phi and other Greek organizations on campus. Her future aspirations include starting her own photography business or working for an advertising firm.
-END-
Wittenberg Center for Applied Management (WittCAM): The Wittenberg Center for Applied Management offers alternative coursework to upper-level students who are focused in business. As an alternative to a classroom-based course, WittCAM students serve as consultants to businesses, government agencies and not-for-profit organizations. Students and organizations have a choice of opportunities, including: Small Business Institute, WittConsultants, Management Internship, and the Creative Advertising Partnership. Students work as groups on projects. Some projects require specific management course prerequisites; these vary depending on the nature of the project. Directed by Professor Pamela Schindler, more than 483 students have been involved in WittCAM projects in the last 30 years.