WittCAM Consultants Work to Promote International Education
September 9, 2010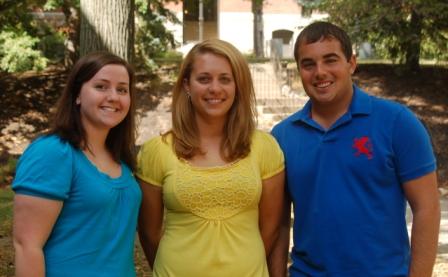 Springfield, OH— In the fall 2010 semester, Wittenberg Center for Applied Management WittConsultants Jenna Rymer, Samantha Grasso, and Christopher Kyriss are taking on the initiative of promoting international education at Wittenberg.  They plan to research semester and summer study abroad programs at Wittenberg and explore the perceptions, attitudes and opinions about studying abroad among all the constituents (students, parents, and faculty). In addition, information will be collected about the marketing of semester and summer study abroad programs of other schools.  The team will complete a marketing SWOT analysis and perform a marketing audit.  They will take that newly gained knowledge and implement it into a marketing and promotional strategy for the international educational program. 

Meet the WittConsultants:
Jenna Rymer '10, from Mentor, Ohio, is a Wittenberg senior majoring in business and Spanish. Rymer spent six weeks studying in Santiago, Chile and visited Buenos Aires, Argentina for a week during the summer of 2010. She has volunteered extensively for the American Cancer Society by being a member of the Clark County Board of Directors and the Collegiate Advisory Team for the East Central Division. Rymer has served as President and Chair of Colleges Against Cancer/Relay For Life for the past two years on Wittenberg's campus. She serves as president of Kappa Delta Sorority. Rymer plans on a career in international business, finance, or teaching, and hopes to use her Spanish skills in whatever career path she chooses.
Samantha Grasso '11 is a senior double-major in business and Spanish from Pataskala, Ohio.  She recently completed a commercial service internship for the U.S. Department of Commerce where she worked on exporting medical equipment to hospitals in Mexico.  She currently serves in the 2011 class cabinet as social and fundraising chair, president of Tau Pi Phi business/economics honorary society, secretary of Alpha Lambda Delta communication honorary, and corresponding secretary for the Alpha Delta Pi sorority.  In addition, she is a member of Athletes for Christ, Rotaract, and volunteers for Habitat for Humanity.  Grasso has worked during the past three years as a caller for the Wittenberg Fund phone-a-thon, as a Spanish service-learning tutor, a Rho Gamma recruitment counselor, and as an orientation assistant for first-year students.  She works in the Wittenberg athletic office and business department, runs cross country and is captain of the rugby team.  Grasso studied abroad in Chile for the cultural experience and to assist her as she pursues a career in international business.
Christopher Kyriss '11 is a senior at Wittenberg University in Springfield, OH majoring in Business with an emphasis in marketing.  His previous employment has involved extensive customer service, sales and warehouse activities.  For the last couple of years Kyriss has been working at the Wittenberg Solutions Center where he has developed a strong understanding of Windows and Macintosh computer applications.  Kyriss interned in 2009 with NewellRubbermaid in the Calphalon division where he helped create a new website targeted at "direct to consumer eCommerce".  He plans to work for a corporation in the field of international business, while continuing his education to acquire an MBA in his respective business field.
-END-
Wittenberg Center for Applied Management (WittCAM): The Wittenberg Center for Applied Management offers alternative coursework to upper-level students who are focused in business. As an alternative to a classroom-based course, WittCAM students serve as consultants to businesses, government agencies and not-for-profit organizations. Students and organizations have a choice of opportunities, including: Small Business Institute, WittConsultants, Management Internship, and the Creative Advertising Partnership. Students work as groups on projects. Some projects require specific management course prerequisites; these vary depending on the nature of the project. Directed by Professor Pamela Schindler, more than 483 students have been involved in WittCAM projects in the last 30 years.