March 1 , 2008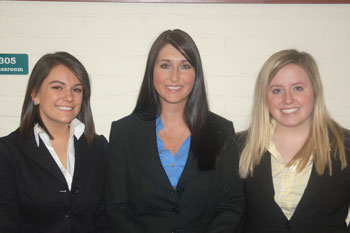 Springfield, OH—This spring three Wittenberg students, Katie Barsan, Zoe Lamberson, and Mallory Miller, will be developing and executing a fund-raising plan to benefit children orphaned by HIV/AIDS in the southern African kingdom of Lesotho.   This project, under the direction of the Wittenberg Center for Applied Management (WittCAM), will include approaching not only the Wittenberg community but also Springfield businesses and faith institutions for financial support.  The team's primary emphasis will be planning and hosting numerous special events, on and off campus, leading to "Survivor Wittenberg" on April 19th. This large fundraiser will be hosted by the recent winner of ABC's Survivor Africa, Ethan Zohn.  The team will also focus on capturing media coverage in order to raise 43 percent more in donations that last year.
Katie Barsan '09, is a junior management major and Spanish minor from Akron, Ohio.  This past summer, Barsan interned at Charles Schwab Corporate and Retirement Services where she gained extensive training and knowledge in client services.  In the summer of 2006, she went on a summer program to Lesotho, Africa, where she helped build houses and spent time with orphans and other children who were either HIV positive or have been affected by AIDS.  Following graduation, Barsan plans to pursue a career in finance.
Zoe Lamberson '08, a senior from Canfield, Ohio, is a communication major with a double minor in history and Africana studies.  Lamberson spent the summer of 2007 in Copenhagen, Denmark and Amsterdam, The Netherlands studying human trafficking in Europe, and the summer of 2006 in Lesotho, Southern Africa where she worked closely with Habitat for Humanity and children orphaned from HIV/AIDS.  The 2006 trip sparked Lamberson to play an active role in the 2007 campus-wide event "Survivor Wittenberg", which raised $14,000 for Lesotho's orphans.  As a member of her sorority, Chi Omega, Lamberson was chosen to serve the chapter in several positions:  as the foundation ambassador, she acted as a liaison between the chapter and the national headquarters;  as house manager, Lamberson coordinated effective communication between the chapter members and the house corporation staff; and as the career and personnel development chairwoman, she focused the chapter toward future goals by organizing an informational workshop with the Director of WittPATH, Wittenberg's career services.  Lamberson served as the secretary of the communication club and was also elected as vice president of the Wittenberg chapter of Lambda Pi Eta, the national communication honorary.  Consistently appearing on the dean's list, Lamberson has earned a cumulative 3.57 grade point average and plans to attend law school following graduation.  
Mallory Miller '08, from Northbrook, Illinois, is a Wittenberg senior majoring in management with a concentration in Marketing. This summer, Miller will be traveling to Africa working with Habitat for Humanity building latrines and working with orphans. She is the vice president recruitment chair for Wittenberg's Panhellenic Council and plans all dates for pre-recruitment activities as well as informal and formal recruitment. As a member of Panhel, she was chosen to attend the Mid-American Greek Council Conference in Chicago to stimulate growth and development of college fraternities and sororities by promoting leadership and educational experiences for student leaders at colleges and universities. As part of her sorority, Delta Gamma, she served as director of recruitment her sophomore year, and also did volunteer work with Service for Sight and Pilot Dogs. She currently works as the student assistant to the Director of Capital Giving in the Wittenberg Advancement Office. During the fall of her junior year she attended the Umbra Institute in Perugia, Italy, where she focused her studies on international business and economics. Miller also volunteered at Arts Infusion Campus in Springfield, OH. She also spent two summers as a camp counselor for the Northbrook Park District. Miller plans a career in marketing, sales or human resources.