April 29 , 2008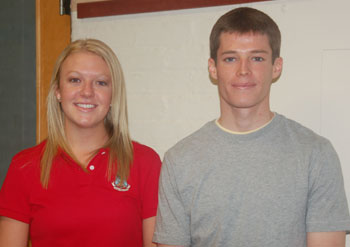 Springfield, OH— During the spring semester, Kelly Mutton '08 and Jonathan Fox '08, project management assistants in Wittenberg's Center for Applied Management, worked with the Springfield Symphony Orchestra to study behavioral and attitudinal patterns as they relate to concert attendance.
Using both online surveys of Wittenberg Students and an intercept paper survey with concert attendees, the research revealed that to increase attendance, the SSO would need to increase the prospective attendees' perceived comfort level.  For students, the team recommended enhancing the overall concert experience through group promotions, incorporating more popular music, and reducing perceived behavioral restrictions. For adult prospects, the team recommended that the SSO use the knowledge of their long-time subscribers and frequent attendees to attract more non-attendees (encouraging subscribers to invite non-attending friends with free ticket promotions and using that knowledge during in-concert music set-ups).
"The team did a very comprehensive study that gives us much to consider in the future," commented David Deitrick, Executive Director of the Springfield Symphony Orchestra.  It is obvious they spent a great deal of time analyzing the data they collected, and they have offered some good recommendations.  I am sure we will be able to use much of what they have done in planning our marketing approach in the future.  This collaboration has been a beneficial exercise for us."
"Before working on this project, shared Mutton, "I hadn't attended a symphony concert and was never exposed to classical music. Now, I have a greater appreciation for classical music and the hard work that goes into making a concert a success.  I feel our suggested strategies will bring about an exciting change for the Symphony that will increase attendance across all age groups."
Kelly Mutton '08, from Fort Wayne, Indiana, is a senior double majoring in management with a concentration in international business, and Spanish.  Studying abroad in Guatemala and Chile has given her an international perspective on business.  Mutton was worked for the Fort Wayne Dental Group where she coordinated financial payment plans with patients, and at Wittenberg as resident advisor. In addition to the Symphony project she also served as part of a 4-person team that developed marketing strategies for a struggling company in the soda industry.  After graduation, Mutton will pursue a career in international business.
Jonathan Fox '08 is a senior management major from Urbana, OH. He has served as a purchasing and sourcing intern for the German-owned Rittal Corporation, and held customer service positions with the triple-A Charlotte Knights and the Waterford Golf Club out of Rock Hill, South Carolina. Last fall Fox worked with a WittCAM team to conduct a retail assessment of downtown Springfield for a group of city, county and business leaders. A residential advisor in South Hall and two-time varsity letter winner on the intercollegiate baseball team, Fox will pursue an M.B.A. in the fall of '08 at Winthrop University.
"The Symphony project has really been a great learning experience," explained Fox.  "It has opened my eyes to an industry that I knew very little about when the semester first began. Overall, I feel the SSO is an amazing asset to the Springfield community and it should be something that more city residents experience."
Kelly and Mutton are confident the SSO can increase attendance among younger patrons and non-attendees in general by implementing their suggested strategies and tactics that build upon the organization's successful past.