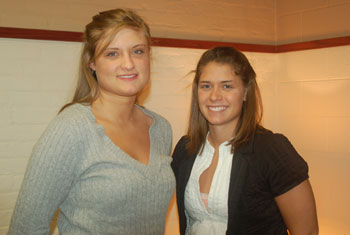 Springfield, OH- This spring WittCAM project management assistants, Andrea Berry and Amber Lough, will be executing a fundraising plan to benefit the orphans and vulnerable child in the southern African Kingdom of Lesotho, a country where 33% of the population is infected with HIV/AIDS.  All proceeds will go towards the materials needed for projects that 59 Wittenberg students will complete in Lesotho this summer. The WittCAM team's activities will involve both on and off campus fundraisers. The primary emphasis will be on planning special events and campaigns that include "Survivor Wittenberg" on April 25th, a letter writing campaign, and phone-a-thon. The team will also approach local businesses for donations and is working closely with the Wittenberg Office of Advancement to find grants from larger corporations/foundations.
Andrea Berry '10 is a junior management major with a concentration in marketing and a minor in Africana Studies, from East Amherst, New York.  Berry spent a month immersed in the African culture while on a 30-day service trip in Lesotho.  She is very involved on campus and is the 2010 class treasurer, a member of the Wittenberg University honors program, the women's varsity lacrosse team, the Student Athlete Advisory Committee, Alpha Lambda Delta (a women's honorary society), and serves as Vice President of Tau Pi Phi, a management honorary. As a member of Chi Omega Fraternity, Berry serves as treasurer and enjoys participating in the philanthropy events that benefit the Make-A-Wish Foundation. Berry enjoys playing lacrosse and travelling and is very interested in sports marketing. After college, Berry plans to pursue a career in marketing.
Amber Lough '10 is junior majoring in management with a concentration in sports and a double minor in Africana Studies and Political Science.  Like Andrea Berry, Amber travelled to Lesotho, Africa for a four week service trip this past summer.  She is also a member of the women's basketball team.