WittCAM Team Closes Successful Year in Fundraising for Witt-In-Africa Initiative
April 26, 2010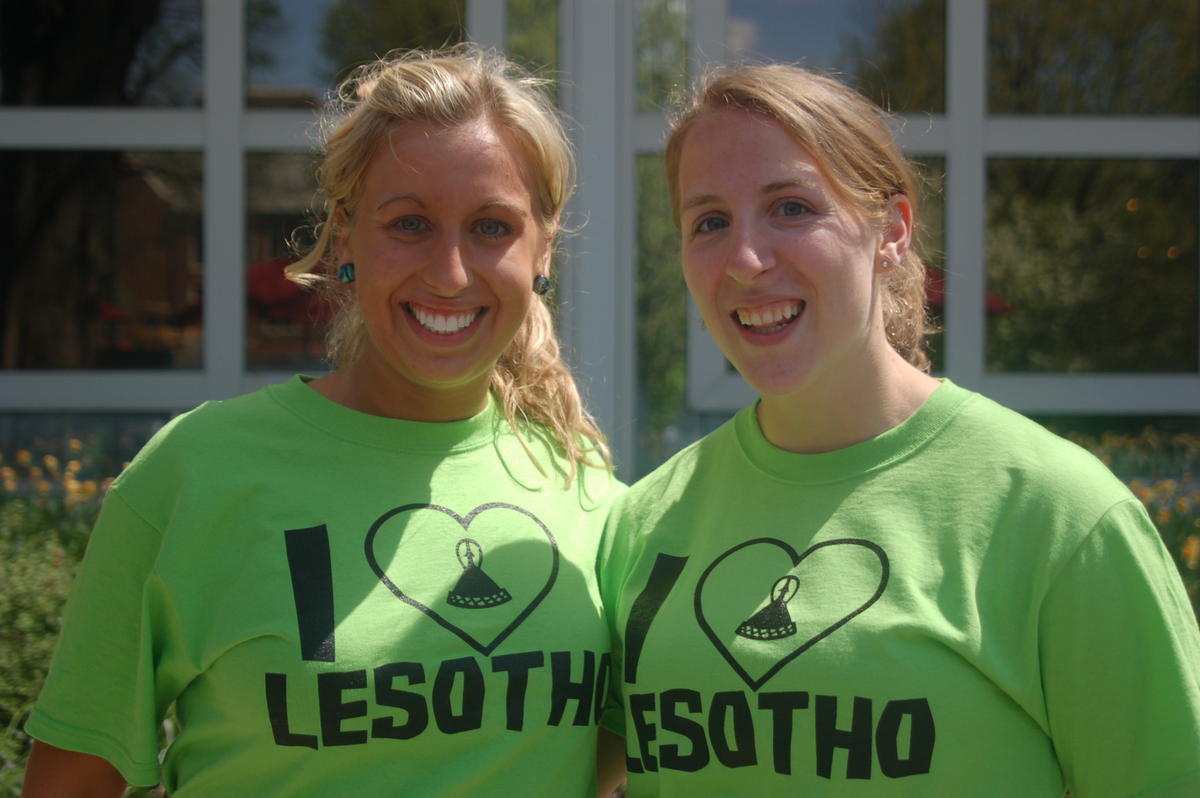 Springfield, OH—Witt Consultants Rebecca Zajac and Emily Ellermann present this week the outcome of their fundraising efforts, closing the year with nearly $8,500 to benefit the orphans of Lesotho.
The team developed and executed several small-scale fundraisers including T-shirt sales, donation competitions at sporting events, alliances with various campus organizations, donations from student groups and a sponsorship campaign with local businesses.
However, on Saturday, April 17th, the WittCAM team's efforts culminated with the main fundraising event: Survivor Wittenberg. In this day-long interactive competition, student teams competed in various challenges modeled after the hit CBS show Survivor. In order to participate, the 8 participating teams were asked to raise the $300 entry fee. All proceeds will go directly to humanitarian projects in Lesotho. Members of the Wittenberg faculty, staff and community supported the students and judged the individual events. The event raised more than $3,500 in support of the Witt-In-Africa initiative, which is led by Dr. Scott Rosenberg, associate professor of history.
In addition to the Survivor Wittenberg, the team investigated the process of applying for various grants. At the end of the term, the team also delivered a detailed analysis of the project in preparation for continued success of not only the Survivor event, but the Witt-In-Africa Initiative.
Dr. Rosenberg was very pleased with the head-start that was achieved for next year's fundraising and is looking forward to putting the money to good use on trips to Lesotho in the summer of 2011.
 Meet the WittCAM Consultants:
Emily Ellermann, '10 is a senior Management and French double major from Littleton, Colorado. Ellermann was inspired to work with non-profit aid organizations by a high school service trip to India, and recently returned from a year abroad in Nantes, France where she studied management, the French language and international relations. Ellermann is currently an intern in the Wittenberg University Office of Admission where she actively participates in the admission process of future Wittenberg students by conducting interviews, working closely with admission counselors and to fulfill departmental goals and by training university Tour Guides. Ellermann is a member of Mortar Board and Omicron Delta Kappa academic and leadership honoraries. She is also an award-winning member of the Wittenberg chapter of Tau Pi Phi, a management and economics honorary. She is a letter-winning member of the Wittenberg swimming and diving team, a committee chair of Colleges Against Cancer, and works as both a French tutor in the Foreign Language Learning Center and as an on-campus Tour Guide for the Wittenberg Office of Admission. After graduation, Ellermann plans to return abroad on a grant from the French government working on an assistantship with the Ministry of Education. She hopes to then pursue a career in a non-profit aid organization aimed at literacy initiatives in developing nations.
Rebecca Zajac, '11, is a junior management major and economics minor from Livonia, Michigan. She serves as the Merit Scholarship Award Chair for Wittenberg Human Resources Management Association, the International Service Coordinator of Rotaract club, the Vice President of Omicron Delta Kappa; a member of the University Honors program, Alpha Lambda Delta (a women's honorary society), Mortar Board, Tau Pi Phi (a Management honorary society); a representative on the Educational Policies Committee, as well as on the Student Appellate Board and is on the Dean's list. Zajac interns as a grant writer in the Advancement office and works as a student assistant for the management department. One of five university Alma Mater ward finalists, she also volunteers with Habitat for Humanity, as an after-school mentor of middle-school girls through Girl Power, and as a Peer Helper to other students on the Wittenberg campus. Zajac traveled to Lesotho, Africa this past summer on a month long community service trip, where she developed relationships with community residents while helping them create a sustainable lifestyle through the construction of houses, chicken coops, green houses, and playgrounds. Zajac plans to study international business abroad in Fall 2010 in Queensland, Australia. In the future, she plans to serve in the Peace Corps and then pursue a career in nonprofit sector.
###
Wittenberg Center for Applied Management (WittCAM): The Wittenberg Center for Applied Management, better known as WittCAM, offers alternative coursework to upper-level students who are focused in management. As an alternative to a classroom-based course, WittCAM provides students with the opportunity to serve as consultants to businesses, government agencies and not-for-profit organizations. Students and organizations have a choice of opportunities, including: Small Business Institute, Witt Consultants, Business Internship, and the Creative Advertising Partnership. Students may work in groups or as individuals on projects. Some projects require specific business course prerequisites; these vary depending on the nature of the project. Directed by Professor Pamela Schindler and with the help of two student directors, more than 480 students have been involved in WittCAM projects since 1975.