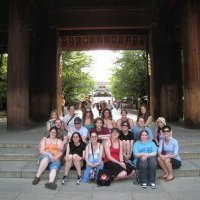 Recently, Associate Professor and Chair of the Department of Communication, Dr. Stefne Broz was awarded the 2012 Collegium Award for Excellence and Innovation in Teaching. This award recognizes outstanding teaching as well as a faculty member's commitment to growing and improving as a teaching scholar. It is also the only award given by
Dr. Broz with students from the Japan Field Study
faculty to faculty. 
 
Broz's focus on "bringing scholarly theory and research to life" for her students is manifested in the classroom, where she brings media examples for students to observe and relate to the topic at hand, and in course assignments such as a health promotion campaign project.
"I was thrilled to learn I had been selected as this year's recipient," said Broz. "I did not expect the announcement would be coming for another week, so it was particularly surprising and exciting."
Since joining the faculty in 2002, Broz has developed seven new courses at Wittenberg.  She took introductory Japanese courses and attended the Freeman Institute for Infusing Japan Studies into the curriculum.  From these experiences she became a contributor to the East Asian Studies program, introducing a new course "Japanese Communication and Culture," and leading field studies in Japan. 
"As an award that is given by my faculty colleagues, this is an especially humbling recognition," said Broz.
Broz will be recognized as part of the opening convocation in the fall. The Department of Communication congratulates Dr. Broz on her achievement!
By Shelly Gregory, 2013