The learning goals of the Communication major include knowledge, skills, and abilities in the following eight areas:
1. Critical Communication Skills: Ability to communicate critically and empathically in both oral and written contexts, including reading, writing, listening, and speaking.
2. Research Skills: Ability to acquire, evaluate, interpret, synthesize, apply, document, and present knowledge gained through diverse and appropriate methods of inquiry in the context of an analysis of an issue, question, or problem.
3. Relational Skills: Ability to interact ethically and effectively in interpersonal and group communication, decision-making processes, collaboration, conflict resolution, and mediation.
4. Analytical Skills: Ability to apply theoretical concepts to the analysis of an issue, question, problem, or text.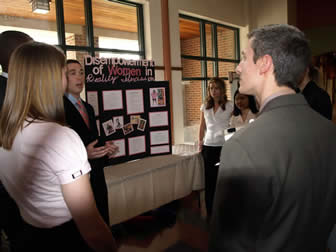 5. Critical Reasoning Skills: Ability to recognize and evaluate underlying assumptions and values to understand others' perspectives, to communicate understandings to others, and to engage in argument ethically and effectively with the goal of coming to mutually acceptable decisions.
6. Diversity Skills: Ability to identify ways to respect difference and find commonality, demonstrating cross-cultural competence in an increasingly interconnected, global society.
7. Technological Skills: Ability to use technologies effectively and ethically in the development and presentation of ideas.
8. Ethical Considerations: Ability to identify and appreciate the ethical dimensions of communication, understanding that what constitutes effective communication may not always be what is ethical.