February 11, 2007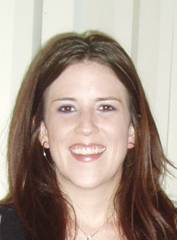 SPRINGFIELD, Ohio – After months of anticipation, the Wittenberg Department of Communication is proud to introduce its newest faculty member.  Kathleen Warber, currently finishing her doctorate at the University of Arizona, was selected among an impressive pool of applicants as the newest professor of the Department of Communication.
A Michigan native, Warber started her undergraduate work at Michigan State University, but transferred to the University of Arizona after her junior year.  Warber completed her bachelor's degree in December 2000 and chose to continue her graduate studies there in Tucson.  She received her M.A. in August of 2002 and is planning on receiving her Ph.D. in May.  Her focus area is interpersonal communication, with an emphasis on the adaptive function of emotion in different relational contexts. 
Charming both the faculty and students, Warber arrived at Wittenberg a few weeks ago to meet with the faculty and students.  On Monday, January 22, she delivered a seminar to the Communication 403 class, Communication professors, and Wittenberg community entitled "Indirect Aggression" which focused on adolescents, gossip, and social comparison.  During her stay, she also met with many other Wittenberg faculty members and staff, including the Provost and the President, before she was finally offered the position of assistant professor for the Department of Communication.  She will begin in August.