February 5, 2007
SPRINGFIELD, Ohio – Sometimes succeeding in Communication classes takes a little more effort than usual.  Whether it be working on your speech for Public Speaking or writing your Roundtable for Reasoning and Communication, there are people who can help.  Maybe you need help on APA format so Dr. Broz doesn't stamp your paper 30 times, or adhering to the guidelines of your Critical Process paper for Media Lit, or just trying to find reputable sources for your Social Scientific Methods course. These people have taken the classes, received high grades, and are willing to help you achieve the same.
The members of Lambda Pi Eta, the Communication Honor Society at Wittenberg, have offered their tutoring services to all those enrolled in the lower-level Communication classes.  Having taken the classes themselves, they know what each teacher expects and can help you in order to get a better grade on a test, write a clearer, more succinct paper, or just help you understand the concepts of the classes on which you may not have a full grasp. 
Below you will see your assigned tutor, along with a list of other "general" tutors that are available for any class.
Comm 190: Public Speaking
Kristen Scheerer, s07.kscheerer
Comm 200: Intro. to Communication Studies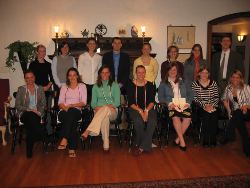 Amy Holden, s07.aholden
Comm 270S: Interpersonal Communication
Ashley Petersen, s07.apetersen
Comm 280: Reasoning and Communication
Caitlin Augustus, s08.caugustus
Comm 290S: Media Literacy
Melissa Crosby, s07.mcrosby
Comm 300: Social Scientific Methods
Katie Karsnak, s07.kkarsnak
General Tutors (can contact for any class)
Rachel Dunn, s07.rdunn
Megan Jackson, s07.mjackson
Kelly Kreiger, s07.kkreiger
Julie Machledt, s07.jmachledt
Please keep in mind that these tutors are not available to give you answers to tests, write your papers, or provide their old work as references.  But they are willing and able to help you and guide you in the right direction.  Also, if you are needing them to revise an essay or paper, make sure you allow them ample time to make corrections in order to help you.