April 13, 2007
SPRINGFIELD, Ohio - Wittenberg's Honors Convocation, an annual event each spring honoring Wittenberg's brightest scholars, was held April 13, 2007 in Weaver Chapel.  Although awards were given to those in every discipline, several Communication majors were honored for their outstanding academic and athletic accomplishments.
The Charles J. Ping Student Community Service Award, only awarded to one student each year, was given to Ashley Petersen '07 for her outstanding leadership and ability to meet the needs of the community by working in partnership with community members.
Another impressive award, the Broadwell Chinn Award, is given to the African American junior with the highest cumulative grade point average.  Among all African American juniors, Comm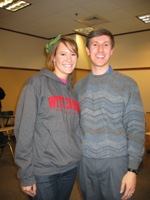 unication major Tia Carter '08, received this award.
The Laurels in Communication is an award given to one senior major who demonstrates academic excellence, personal integrity, a commitment to the community and the motivation and potential to use his/her advanced knowledge of communication toward socially responsible ends.  This year the Communication faculty awarded Amy Holden '07 this award.
As the Communication department prides itself on not just academic but also extracurricular excellence among its students, Rachel Dunn '07 was awarded to the National Field Hockey Coaches Association Division III National Academic Squad for maintaining a 3.30 through the first semester of the 2006-2007 academic year, as well as excelling in the sport.
Among some of the most prestigious awards given at the Convocation were the Presidential Scholars awards, given to the members of the junior class who have maintained the highest academic standing in their class through the preceding five semesters at Wittenberg.  This year, three Communication majors were recognized: Caitlin Augustus '08, Sarah Fetters '08, and Kari Phelan '08.
"I think we've had one major in the past six years awarded as a Presidential scholar, "observed Dr. Smith. "But having three in one year?  It's absolutely remarkable."