When many students hear the words, "honors thesis" as far as they are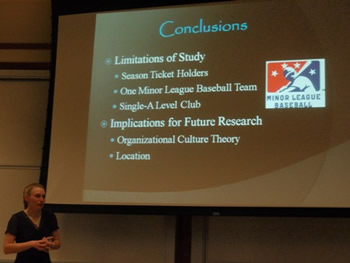 concerned the words may as well have been, "Unnecessary hard work." It is hard to blame them; the requirements of writing a thesis, successfully defending it before a committee, and presenting it at a departmental colloquium do seem daunting. Regardless of how intimidating attaining Communication Honors may seem however, year after year multiple Communication majors still take the thesis path.
So why do they do it?
It may come as a surprise, but there are actually a variety of reasons. According to Communication Honors Program member Sarah Fetters, "It really opens your eyes to the possibilities and frustrations that research presents. I think you really refine your writing process." Keeley Buehler, who presented a thesis entitled "Values Structured as Persuasive Appeals:  A Values Analysis of Haute Couture Fashion Websites," also explained her views: "Personally, I'm applying to grad school, and I knew it would help. Also, it gives a product to build on into the future." Mike Holley agreed. "Although it's a lot of work right now, when it's all said and done, I'm going to be proud of the fact that I was able to demonstrate my mastery over my course of study in such a tangible way." Finally there are the credits: up to ten are available while working closely with a Communication professor to complete the thesis in Communication 499.
This year, five Communication majors presented honors theses at the annual colloquia, and not one seemed to regret their decision. For those who are considering pursuing a thesis in the future, the presenters had a few suggestions to help avoid making it a hassle. For Sarah, an avid sports fan whose internship with the baseball team "The West Virginia Power" inspired her thesis on people's identification with professional sports teams, her advice seemed natural: "You really have to be passionate about the topic that you're interested in researching. It can be very rewarding, but just make sure that it's something you like and are willing to spend a lot of time with."
Mike, whose thesis explored the interaction between audio and visual aspects of television-commercial-based images on overall affective response, required a significant amount of student participation in experiments. Reflecting on his experiences, his advice dealt with effective time management: "Seriously, SERIOUSLY don't wait until the last minute to do your research!" he exclaimed. "Keep in constant communication with your advisors and be sure to sit down with a professor and spend some time in the beginning fleshing out what you really want to do versus what you actually CAN do." To augment his words of wisdom, Mike also relayed an unfortunate tale regarding waking up one morning with an appendicitis and being thrown off track for an entire semester because of the subsequent surgery. "You want to make sure you have a solid plan of action as early as possible so you minimize the crises that can ensue."
All five of the thesis presenters this year survived the process and will continue on to graduate with Departmental Honors. Not a single one keeled over or had a mental breakdown (well, not because of the thesis anyway); in fact, most seemed to have enjoyed it. The way the Communication honors thesis is structured allows for the student to have complete control over what they research and when – the students have the choice to study only what is interesting to them while accumulating credits and working toward a final product that they can be proud of. "Completing the process is nothing short of an achievement," mused Mike. "It is a way to show your peers, professors, parents, and future employers that you are capable of outstanding work."
Maybe the honors thesis isn't quite as scary as it looks after all.
~Lukas Treu '09