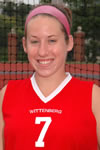 SPRINGFIELD, Ohio – Senior communication major Claire Johnson recently had the honor of delivering a speech at Mount Notre Dame High School in Cincinnati to one thousand students regarding the meaning and importance of being an "Everyday Leader."
An alumna of Mount Notre Dame, Claire was surprised one day to find an email from the Director of Campus Ministry at the high school asking if she was interested in speaking at their leadership assembly. "I was really honored that I was even being considered," said Claire, "and I really felt that it was such a great opportunity that I could not pass it up."
Claire, a member of the Communication Leaders Program, Lambda Pi Eta (The national communication honorary society), and co-captain of the Wittenberg women's field hockey team, was selected from a group of ten alumni from her all-girls catholic high school to speak about the characteristics and activities involved in being a strong leader. Looking at her accomplishments, it isn't hard to see why she got the bid.
In her speech, Claire commented on the value of being a consistently kind person, listening to the needs and wants of others, and taking care of those around us. One of her key focal points was the fact that, "Leaders must be passionately committed to honoring and unlocking the potential that they find in themselves and others." She spoke to the girls about how her time at Mount Notre Dame and the education she received there helped her to create and achieve goals in field hockey, community service, and other aspects of her life once she arrived at Wittenberg.
Near the end of her speech, Claire noted that, "Life is not always easy, and does not always happen the way you planned," but later went on to say that through faith in God and determination, no obstacle or goal is insurmountable. Claire certainly undertook a difficult task when she agreed to deliver her speech, but true to her own words, she made the most of the opportunity and hopefully inspired some young ladies along the way. Congratulations to Claire on her selection as an honored alumna, and for having the courage to address such a large audience!
~Lukas Treu '09