SPRINGFIELD, Ohio - When Dr. Matt Smith, the chair of the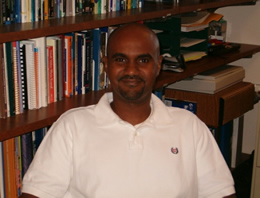 Communication Department at Wittenberg, decided to take a sabbatical leave during the 2007-08 academic year, it quickly became apparent that a temporary replacement had to be found to teach his courses. The solution to the problem came in the form of Mohamed Sati, a Sudanese graduate student interested in international communication, global media systems, and the impact of new technologies on communication.
Mr. Sati grew up in Sudan for eleven years before moving to Ghana in western Africa as a young man. He acquired his undergraduate degree at American University in Cairo, Egypt, and proceeded to travel to the United States to continue his education six years ago. He enrolled in the graduate program at Ohio University, and with his Master's Degree completed; he is currently working on his Ph.D. while teaching classes here at Wittenberg. He currently is teaching Communication 190: Public Speaking, Communication 290: Media Literacy and a course that he invented himself called Communication 350: Global Media Systems.  
With his interesting background, Professor Sati brings a bit of flavor to the classroom. Being from another side of the world, he has interesting perspectives to offer on how communication and technology here in the United States compare to where he comes from. Also, being from a foreign country, he is always quick to remind students the importance of consuming global news and media, and not just focusing on what is happening outside their windows. As a testament to this, I personally, after being a member of his Media Literacy class for only a few weeks, have already changed my homepage to the newswire Reuters.com, and have begun listening to National Public Radio to stay abreast of news that I had previously been disregarding.
While interviewing Professor Sati, I had the opportunity to learn a little more about what he is like outside the classroom. I found that he speaks Arabic as well as English, loves both watching and playing soccer, and that he finds great satisfaction in cooking and socializing with friends. "You may well see me out on these courts in the coming weeks," he said with a smile, indicating the tennis complex outside his Hollenbeck office window with a nod of his head, "I love to play tennis."
When asked what he thought of Wittenberg thus far, he said that he enjoys the challenge of teaching at a collegiate level, and hopes to do so for years to come once he has completed his Ph.D. work. "While I am only here at Witt for a year," he said in an interview, "I hope to get students to open their minds to different ideas about communication, and to help them see the endless possibilities that new media technology is bringing with it."
This drive to get students to open their minds to new ideas is apparent to anyone who has ever entered Professor Sati's classroom: for instance, one day in his Media Literacy class, he had students bring in samples of their favorite music. Everyone got a taste of the different genres that various students listened to, and even heard some of the Middle Eastern music of which Professor Sati was a fan.
Thus far he says that he has loved it here at Wittenberg, and has been glad to find such a "welcoming department and eager-to-learn students." The Communication Department is pleased to have Professor Sati as a member of the staff, and hopes that he continues to enjoy his time here while offering students his valuable insight.
~Lukas Treu, '09