Senior Communication major Tyler Hall presented his research findings on the portrayal of Christianity in the television show "House M.D." at the 75th annual OCA conference held from Sept. 30- Oct. 2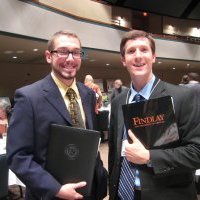 Hall chose his research topic, titled "Fools of Faith," because he is a huge fan of "House, M.D." and also because he is a Christian and has a vested concern in how media have simplified and coded religion.
"This research, in a way, started in the fall of 2009 when I took Comm 290S: Media Literacy. I did a critical process analysis on three religiously-themed comedies and started to realize the
Hall, left, and Smith at the 75th annual Ohio Communication Association conference
meanings that surround Christianity in the public sphere," said Hall. "I knew I wanted to look into the issue further, and the tools afforded me in Comm 301: Television Criticism served as the perfect arena to fully enact the critical research I had been envisioning."
Hall personally submitted his final research paper to the OCA conference committee and was then selected to present his findings at the annual conference.
"Conferences are a great way to get a feel for the diversity and progress of any given field. Mine is just one among a conglomerate of voices that will be adding to the ongoing and multifaceted discussion of how the human race creates, interacts with and responds to meaning," added Hall.
After all the time and effort spent putting his presentation together, Hall has only one thing he hopes people will learn.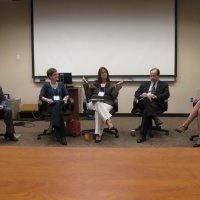 "I hope my research provokes TV viewers to more critically assess what they're watching and what values certain shows communicate," said Hall.
In addition to Hall's presentation at OCA, Dr. Stefne Lenzmeier Broz   presented on a panel entitled, "Insights from the Editors: How to Get Published in Academic Journals."   
By Shelly Gregory, 2013