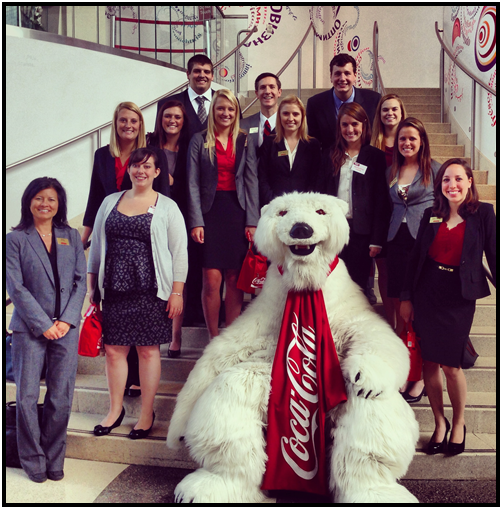 Over fall break, students in the Communication and Business Leadership Experience (C.A.B.L.E.) traveled to Atlanta and presented their research on two case studies given to them by executives from Coca-Cola and FitWit.
C.A.B.L.E. participants were hosted by alumnus Scott McCune ('79) at World of Coca-Cola, and alumni Josh and Erin Guerrieri ('01) hosted them at FitWit. While in Atlanta, the C.A.B.L.E. class visited Turner Entertainment, hosted by alumnus Mike Budney ('05). Students also toured the Georgia Aquarium, where they saw exhibits, event facilities, and listened to the Director of Sales for Wolfgang Puck Catering.
Dr. Matthew Smith from the Department of Communication and Dr. Wendy Gradwohl from the Department of Business advise the C.A.B.L.E. program, in which twelve Wittenberg seniors currently are participating: Tyson Agler, Elizabeth Brake, Julia Devine, Regina Gasser, McKenzie Hopkins, Lindsay Janmey, Nicolette Lyons, Kathleen Murphy, Francine Murzynski, Matthew Pfouts, Chloe Tippman, and Kelcie Webster.
"The opportunity to present a case study to executives from Coca-Cola was an experience that many college students elsewhere do not have. After our presentation, there was a question and answer session and the executives asked us tough questions about our case study, but this allowed us to defend our ideas and be confident," said Francine Murzynski, a Business major. "For many of us, this is the first time presenting to executives of a company, but we received so many complements and advice from Coca-Cola."
Dr. Smith and Dr. Gradwohl recently completed the selection process for the 2014 C.A.B.L.E. members: juniors Gabrielle Bell, Kelsey Claar, Meghan Concannon, Allie Hermes, Grace Monahan, Miro Nguyen, Michael Norby, Victoria Perlak, Jess Stankeveh, Ana Paula Veiga, and Hannah Yalaz. They will attend their first field trip on Sunday, January 12, 2014 at the Proctor Center in London, Ohio for a day of team-building exercises.
"I intend to gain both professional and personal experience. I am really looking forward to further challenging myself as a student as well as obtaining leadership skills. Also I hope to further develop myself as a person of business and pinpoint exactly what I desire in my future career endeavors," said Victoria Perlak, a Communication major and Business minor.
  "I see the new members applying the knowledge, skills, and abilities they've acquired during their time at Wittenberg to solve real organizational issues. I hope they will learn new things about themselves – who they are as leaders, teammates, colleagues, and citizens – and then use that insight to figure out how to work effectively with others who may be very different in terms of personality and values," said Dr. Wendy Gradwohl, co-advisor. "Through site visits and projects, I foresee they will have a clearer idea of the type of industry, type of workplace, and type of job they desire most. I look forward to the C.A.B.L.E. participants building their confidence and believing that they can make significant contributions wherever they happen to be."
By Ciara Colvin ('16)