December 1, 2006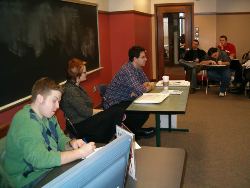 SPRINGFIELD, Ohio – A 'dog's breakfast' is exactly how to describe Monday, November 20.  Defined by Steve Lieber as "a little bit of everything," Lieber and his colleague/wife Sara Ryan enlightened Wittenberg audiences with their wit and intelligence, talking about subjects such as Bugs Bunny, homosexuals, and most importantly, comics.  Two renowned comic book creators and authors, they addressed the Wittenberg community at two sessions in order to give students and faculty an insight into their lives and contributions to comic books and literature.
Steve Lieber, who spoke to Dr. Matthew J. Smith's COMM 220A: Comic Books as Culture class, showcased his witty personality while giving students a background into the history of style in comics as well as his life as a comic book illustrator.
Lieber gave students an understanding of how he became interested in comics.  A self-declared dork, he had many fears as a child.  "I kept my nose in books and stayed out of reality."  When his third grade teacher asked him his life dream, he replied with, "a cowboy or a comic book artist." 
Finally deciding to pursue the latter occupation, Lieber takes a bit of inspiration from every facet of art, calling his personal style "a dog's breakfast."  His main influences include 1900's French painters, 1950 Dutch realists, and Bugs Bunny.  He aims to construct a strong visceral feel with rough and smooth surfaces without exhausting the reader's eye.
Being Jewish, Lieber explained why many comic writers share the same faith.  "Comics were always an outsider's medium," explained Lieber.  He said that Jews had 3,000 years of abuse that writing let them make sense of the world.  Even after comic books became increasingly popular in the early 1900's, they were considered "low culture," but Lieber attributes them to what his art "bubbled out of." 
The advent of the Adobe computer program Photoshop made a huge difference in the world of comic book creation and made it more possible for more people to enter the market, said Lieber.  Along with more Hollywood films based from comics, he hopes the future of comics includes digital formats such as comics for itunes as well as an increasing number of interested writers and illustrators.
Sara Ryan also addressed the Wittenberg community in Ness Auditorium later in the day; she spent the beginning portion reading excerpts from her novel "Empress of the World."  Her novels typically deal with some aspect of female sexuality and sexual identity, usually focused on a homosexual couple.  She said that there are "not many stories where two girls fall in love and start a relationship where nobody changes their mind and falls for a guy."  In "Empress," she wanted to explore what happens when you get away from home for the first time and discover who you really are.  Ryan also aimed to understand the line between friendship and attraction, which she feels is a very blurry line.  This is a book that overstepped boundaries for a school in Texas, where it was banned, but overall she has received many positive emails about the book.
Working full-time as a librarian, she spends most of her free time writing.  "I don't want to write a message.  I want to write a story and if a message reaches my audience, then great," she said about her works.  Along with prose, she also writes comics.  In order to start her comic writing process, she thinks from the beginning about the pictures she wants and also what the artist can draw.  She then develops her stories from that pre-writing process.  She came into the comics industry from Lieber, who also happens to be her husband.  She hopes the future of comics will include more female authors being published in the industry.  Because she is not a traditional female in comic literature, she aims to do stories that are important to her.  "My priority is my personal work.  I want to write stories for people who like them."
Their appearances were brought to the Wittenberg community by The Department of Communication, Thomas Library, the Gay Straight Alliance (GSA), and the Faculty Endowment Fund Board.