Lambda Pi Eta is the official communication studies honor society of the National Communication Association.  As an accredited member of the

Association of College Honor Societies (ACHS), Lambda Pi Eta has nearly 300 active chapters at colleges and universities worldwide, including the Xi Phi chapter here at Wittenberg University.
Lambda Pi Eta was founded in 1985 at the University of Arkansas.  Lambda Pi Eta became a part of the National Communication Association (NCA) in 1988, and the official honor society of the NCA in July 1995.
Lambda Pi Eta represents what Aristotle described in his book, Rhetoric, as the three ingredients of persuasion: Logos (Lambda) meaning logic, Pathos (Pi) relating to emotion, and Ethos (Eta) defined as character credibility and ethics.
Check out what LPH is up to right now!
Current Members
Kelly Clark '10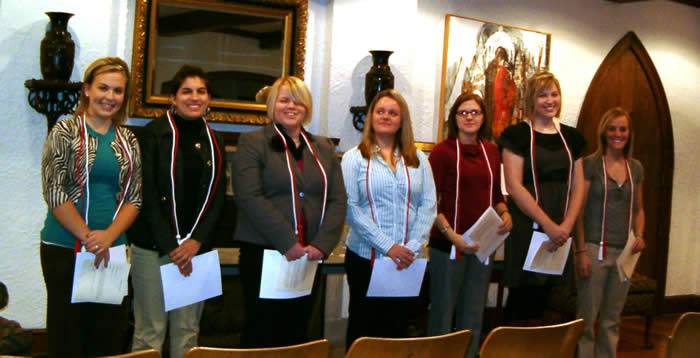 Katherine Fernholz '10
Kathleen Graham '09
Nicole Hollis '09
Kristian Kovacs '09
Andrea Lauer '09
Anna List '10
Erin McBride '09
Sara McKinniss '09
Keith Pfeffer '09
Maryam Rezayat '10
Sarajane Stofac '09
Lukas Treu  '09
Emily Willis '10
Spring 2009 Inductions Will Take Place at 6:00pm on February 26th in Bayley Alumni House. Anyone interested in attending is invited!  
If you are interested in applying to become one of the newest members of this prestigious society, be sure you:
have completed at least 60 semester hours in college
have completed at least 12 semester hours of communication study
have a cumulative GPA of at least 3.0
have a communication studies GPA of at least 3.25
display a commitment to the field of communication
Membership selection for the Spring 2009 Semester has concluded, but interested students who meet the requirements for membership are encouraged to consider applying in the Fall! Click here for the application which will be due in the Fall Semester 2009.
As one duty of being a member, LPH provides a mentoring service to the lower-level Communication classes.  Students can get in contact with them for general and specific questions, to help revise their papers, or get advice for studying.
Fall 2008 Classroom Mentors:
Comm. 190: Public Speaking
Comm. 200: Introduction to Communication
             Keith Pfeffer (s09.kpfeffer@wittenberg.edu)
Comm. 270S: Interpersonal Communication
              Erin McBride (s09.emcbride@wittenberg.edu)
Comm. 280: Reasoning and Communication
              Kristian Kovacs (s09.kkovacs@wittenberg.edu)
Comm. 290S: Media Literacy