Communication Major, Journalism Minor Rye, N.Y.
"I find I'm motivated by others – friends and professors. I believe you have to seize opportunities if we're going to go anywhere."
Growing up in a community just 20 minutes from New York City, Kelly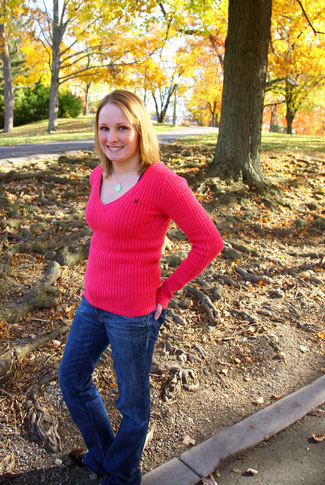 Eggers and her contemporaries shared the same life experiences. She knew when she started looking at colleges that she wanted to have the opportunity to learn about other communities.
She checked Web sites of more than 40 colleges between New York and St. Louis. She had decided on another school in Ohio, but when it came time to visit campuses, her father felt she should look at more than one school. Her visit to Witt changed her mind.
"My visit was so personal," Eggers said. "The admission counselors had gone above and beyond to make my time here count. Actually, my entire college experience has been outside the box."
Deciding on a direction didn't come easily for Eggers, but once she found a focus, it was full steam ahead.
"I had changed my mind about a career every six months," she said. "At one point I wanted to be a teacher, but about halfway through my first communication class, I saw a poster the admission office had placed in Hollenbeck Hall showing what you could do with different majors."
Eggers always liked to write, and as she found her interest narrowing, she began to focus on news. She discovered a strong interest in broadcast journalism, and she applied for a position as an intern with Fox News in New York City. Following a telephone interview, she secured an internship with the news organization in the summer of 2008.
"It was an amazing experience," Eggers said. "I worked in the booking department of America's Newsroom, researching stories about things that happened to others. I would Google news in random local small communities."
She returned to campus with "a really great mindset for senior year."
Co-president of Union Board, the university's campus programming board, Eggers also works as a tour guide for the Office of Admission. In addition, she is a co-captain of Wittenberg's women's swimming and diving team for the 2008-09 season.
"I find I'm motivated by others – friends and professors," Eggers said. "I believe you have to seize opportunities if we're going to go anywhere."
Eggers has discovered the experience of living in an urban environment is quite different from her familiar suburban home.
"Springfield is such an interesting place," she said, noting the efforts to revitalize the community. "I do my community service spring semester, and I look forward to being part of that."
- Written by Phyllis Eberts '00
- Photo by Bob Rafferty