Elyse Adams, class of 2012 is working at the US Department of Commerce -- International Trade before she leaves for a semester study abroad experience in Chile.
May 23, 2011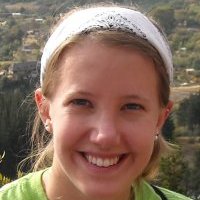 I began working at the Department of Commerce on Friday. I will be using one of the Department's laptops to enter client information gathered at trade shows on the Client Tracking System. They use this system to track how their clients are doing in regards of getting into the foreign market and trading internationally. Debbie is very nice and I really enjoyed working with her.
 Thanks again for helping me find this internship I'm really looking forward to working there this summer!
 June 8, 2011
It's going well. So far I worked on a project where I entered information about companies gathered from a trade show into a program that the DOC uses. I also looked up trade specialists for different states to see who at the DOC would be the contact for the company. A few weeks ago I got to attend the 9th Annual Economic Development Summit with Debbie which was very interesting. I really enjoyed the keynote speaker, Dr. Ronald Pollina. And my name tag said Elyse Adams: U.S. Department of Commerce so that was pretty cool.
 June 28, 2011
Everything is going well at my internship. A few weeks ago I called about 350 companies in southwest Ohio to find out who handled their international sales. It was pretty tedious and a lot of the companies were too small to sell internationally so Debbie came up with a new project for me. Using thomasnet.com I've been making spreadsheets of companies in southwest Ohio and their contact information for different categories. The most recent one I made was for HVAC. It's amazing how many subcategories and companies there are in the US!
 July 7, 2011
Last week I got to go with Debbie to talk to a company about their international exporting options, so that was actually pretty interesting. Since we met with them I've been doing market research on pharmaceuticals/vitamins/supplements to help out the company. I've also been doing more calling which definitely isn't my favorite but it's improved my ability to think on my feet and deal with difficult people.
 I did get a lot out of this internship that I think will help me when I eventually get a job and I'm very happy I was able to do it.  Now I am off to Chile for a semester!