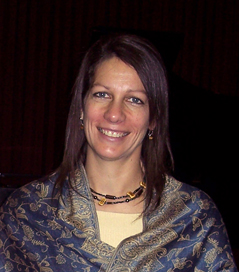 Dr. Janice Glowski received her undergraduate degree with a major in Chemistry and a concentration in Religion from Wittenberg University. Following graduation, she worked with the Peace Corps and later in industry as a chemist. She completed an interdisciplinary Master's Degree in Religious Studies with an emphasis on Asian visual culture at The Ohio State University, and went on to earn a Ph.D. in Asian Art History. Her major areas of study were Himalayan and South Asian Art, with a minor area emphasis in Buddhist art throughout Asia. She worked as a Curator and Director of Special Collections at Ohio State and Curatorial Consultant prior to joining the Wittenberg faculty.
Dr. Glowski  teaches courses on Asian art, Buddhist art, and Tibetan Buddhist art, theory and practice.  Her course on arts-professional curatorial practices regularly draws on Wittenberg's Asian art collection.  In Spring 2012, her Art on Display course (an upper level museum and curatorial practicum) culminated in a faculty and student-curated exhibition called Speaking with Silk:  20th Century Chinese Embroidery Paintings from Wittenberg's Li Collection.
Dr. Glowski began teaching at Wittenberg in 2006 and joined the faculty full-time in 2011.  She holds an interdisciplinary appointment with the Art and Religion departments, and contributes to the East Asian Studies Program.  Her current research related to East Asian Studies focuses on Tibetan Buddhist art in the diaspora.
Contact Information
Office:  103 Koch Hall
(937) 327-7912
jglowski@wittenberg.edu