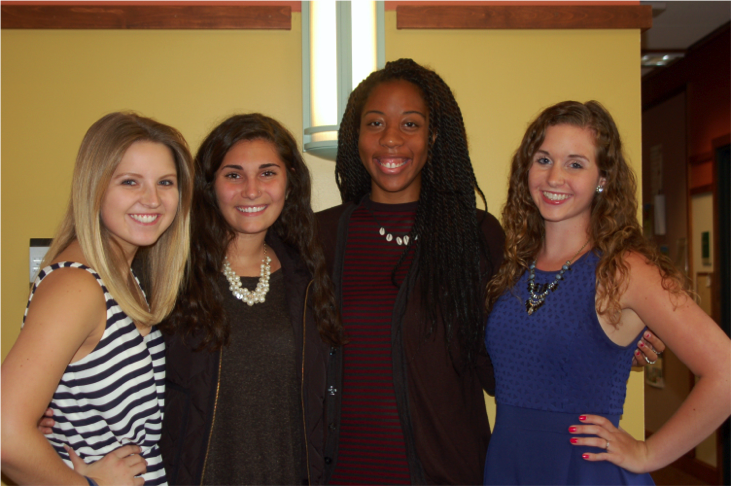 Wednesday September 14, 2015,
Springfield, OH--- WittConsultants Lauren Gerhardt, Emily Aurigemma, Asha Toure and Evelyn Ritzi will be managing and coordinating the 2015 Entrepreneurial Business Award (EBAward) process for the 2015 academic year. The EBAward showcases a business from Clark or Champaign County that has shown itself to be successfully innovative in their business approach. The WittConsultants team will create an advertising campaign, plan and promote activities, as well as host events to support the award process. Creating a panel of local leaders to help in the organization and nomination of possible candidates for the award will be the team's first task.
Lauren Gerhardt ('17) is a junior marketing major and Spanish minor from Cincinnati, Ohio. At Wittenberg she is Membership Education Vice President for Alpha Delta Pi sorority, is a member of Alpha Lambda Delta Honorary Society, Pick N' Pen Honorary Society, and is a tour guide in the Wittenberg Office of Admissions. Back home Lauren is very involved with her family and she worked as an intern for Phelan Insurance Agency Inc. and is currently a sales associate at the Loft during the summers. Her future aspirations include graduating from Wittenberg University and furthering her education in the hopes of becoming a corporate attorney.
Emily Aurigemma ('17) is a junior Communications major and Sociology minor from Cincinnati, Ohio. She is a member of Alpha Delta Pi sorority where she holds the position of Formal Recruitment Chair. She is also a member of the Alpha Lambda Delta Honors Society, a Provost Scholar, and a member of Union Board. In the future, she hopes to work in Public Relations.
Asha Toure, ('17) is a junior from Pickerington, Ohio double majoring in Vocal Music Performance and Communication. She is a student worker at the Wittenberg Health and Counseling Center and serves on the Executive board for both Concerned Black Students and Secretary of Shades of Pearls. In the future, she hopes to find work at a Public Relations firm as a social media and music manager.
Evelyn Ritzi ('17) is a junior from Troy, Ohio majoring in Communication. She participates in Wittenberg Student Dance Company and serves as Public Relations chair for Alpha Delta Pi Sorority. She is also a member of Wittenberg Integrated Media Corps and Alpha Lambda Delta Honors Society, and has written for Links, the Department of Communication newsletter. This past summer, she interned with WDTN-TV as a member of the marketing/promotions team. In the future, she hopes to work in public relations or media production.