Eric Werner
Class of 2013 Working as a Dramaturgy/Literary Management Intern at Actors Theatre of Louisville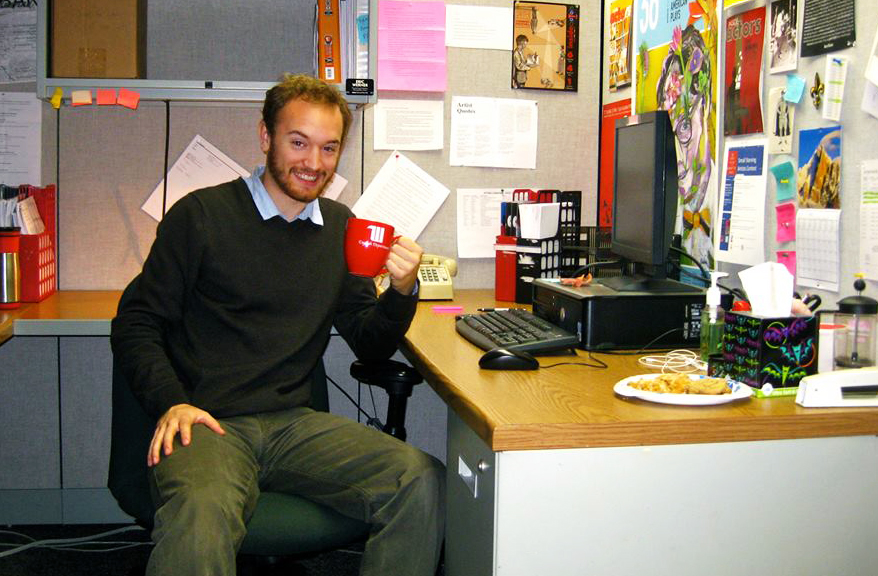 As a Dramaturgy/Literary Management Intern at Actors Theatre of Louisville, my favorite part about my job is that I never know what I'm going to be doing on any given day. I could be reading submissions to the National Ten Minute Play Festival, or researching 18th century English etiquette for a production of Tom Jones. I could be in a rehearsal room with five actors struggling to create a devised piece about a group of survivors after a post-apocalyptic atomic meltdown, or talking about different structures with a writer developing a new script. Sometimes all in the same day!
Now I know you're asking, "How on earth did an English major land a spot working in a theatre?" The response: I couldn't imagine doing my job coming from any other background. Over the course of four years of reading, talking about, and writing on some of the greatest works of literature, I honed the skills I now use everyday.
Through many rounds of drafting essays, I learned that writing is a process, and I learned to navigate that process. Part of what being a dramaturg means is being a Writing Advisor for a playwright as a script develops. I know firsthand that the masterpiece isn't going to come out on the first draft, and can act as a backboard for the playwright to work off of. In a more tangible way, I have to be able to read, understand, summarize, and evaluate a tremendous amount of scripts. Actors Theatre receives over 700 submissions of ten-minute plays alone, which my fellow intern and I get to log, read, and evaluate. Having five postage boxes filled with scripts really puts the hundreds of pages of Ulysses into perspective.
When we decide which plays to produce in a season, the dramaturg works with the director and producing team to provide a context for the play. This means a lot of research. This means boards filled with images of things that may exist in that world. This means actor packets that explain references and provide historical context for the people that have to perform the play. Good thing I've spent many a wee-hour of the morning in the 24-hour Computer Lab trying to find the perfect scholarly, peer-reviewed article for a paper due a few hours later.
Above all, this job requires that I come to a new script with genuine curiosity, an attitude that was instilled and encouraged at Wittenberg. As I sip my office coffee from my red English Major Mug each morning, I am reminded of the people, the institution, and the degree that got me here, and I am deeply grateful.