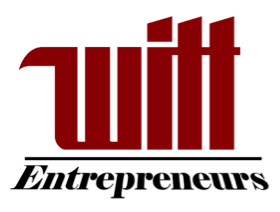 What is it that you truly care about? What's your passion? Imagine a program that allows you to take those things, paint a vision of the change you could make and help design a path to achieve it.  A program that empowers you to significantly contribute to a cause, start your own venture … to be inspired and inspire others along the way.  This is WittEntrepreneurs.  
What is WittEntrepreneurs?
WittEntrepreneurs is a program that strives to not only teach the fundamentals of entrepreneurship to every Wittenberg student, but to allow them to actually experience the ins and outs of running a business.  A thorough experience in the program would allow a student to take several courses in Entrepreneurship, earn a significant role in one of our program-owned businesses (as early as their first semester on campus) and even start their own business (starting their Junior year). 
In summary, the program includes:
Recent News/Activity
WittEntrepreneurs Program Values and Focus
WE SHALL:
Always remain student-focused – our mission is to help Witt students discover and develop their gifts, and every initiative we pursue will keep this as our highest priority.
Encourage diverse teams and broad perspectives – we firmly believe that the greatest insights and achievements occur when people with broad perspectives and diverse gifts work together to achieve shared goals. 
Take nothing from our students – all equity, intellectual property and profits generated by student-founded ventures will be owned and controlled by the student founders.
Encourage innovation and experimentation – knowing that few great ideas produce immediate impact, we shall embrace all that can be learned from our failures and false starts as well as our successes.
Do good while doing well – we believe that free enterprise, profit, social entrepreneurship and philanthropy are in no way mutually exclusive.  Students will have a chance to see this first-hand as well as learn from other leaders who have achieved great success and done great good for others in the process.
Never compromise our values – we foster the values of principled entrepreneurship, stewardship and sound ethical behavior, and we expect all ventures operating within the WittEntrepreneurs Program to do the same.