Be a part of the campus community.  Do things outside of the classroom and interact with other students. Studies show that a student's commitment to one or two outside-of-class activities has a strong relationship to overall satisfaction with college life and improved academic performance.  Information on various student groups and activities can be found on the Office of Student Involvement website.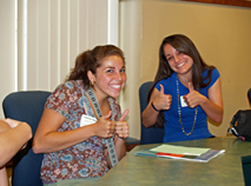 Don't be afraid to ask for help when it is needed. There are many resources available to help you with any difficulty that you encounter.  If you are unsure of where to go, start with your academic advisor.  You can also check out our Academic Support Information page which provides the contact information and hours of various tutoring centers on campus.  
Make a connection with your professors. Get to know one faculty member reasonably well each semester, and have them get to know you reasonably well. Faculty are a great resource and can provide you assistance with their classes, can become mentors, and can be future references for a job or graduate school.  In addition, attend office hours for any and all of your classes.  These are a great time to connect with your professor, even if you aren't having trouble in that class!
Go to class and study! Unlike high school, no one will follow you up if you don't go to class. However, it is easy to fall behind quickly if you're not attending lectures, and your grades will be affected. Some courses have compulsory attendance requirements, or a participation component to the final grade. In college, you are expected to do a great deal of learning independently, which translates into more work outside of the classroom.  If you are not feeling well or are unable to make it to class, make sure you communicate this to the professor through an e-mail or going to office hours.  This lets the professor know you care enough to let them know why you missed and how you intend to make up for the missed work. 
Manage your time wisely.  Studies show that sophomores who had a great first year at college realized the importance of learning to manage their time well. They learned to allocate their time between academics and other activities so they can be happy personally and be effective in their academic work.  Using an academic planner will help you keep an eye on your work load and budget your time accordingly.  Let your academic advisor know if you are having trouble managing your time.