Before Classes Start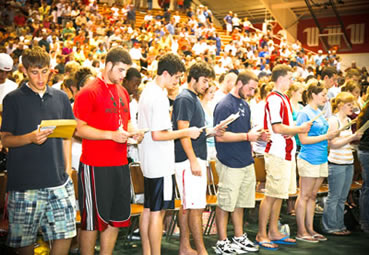 Complete Pre-Orientation - Pre-Orientation is a central location to assist incoming students; identify classes they are interested in (which will help us build your schedule), get on the contact list for clubs and organizations you find interesting (we'll be in touch!), as well as continue to explore Wittenberg in the Spring and Summer before we can welcome you to your new home in the Fall.  
Be aware of transitional issues that first-year students face - The transition from high school to college can be difficult.  Navigate over to our Transitional Issues page to find some of the most common issues.  Don't be afraid to discuss these issues with your parents and what steps you can take to be proactive.
Ask yourself the question, "Why am I going to college?" – Identify your goals and what you want to accomplish while at Wittenberg.  These goals will help you to stay focused and energetic.  Every student struggles at some point in their college career but having a solid set of goals in mind can help you navigate those challenges with much more ease. 
First Week of Classes
Review your syllabi – Make sure you understand what you are expected to do.  Each class syllabus represents an agreement between you and your instructor.  If you have questions about course requirements, books you need, or due dates, make sure you ask your instructor.  Keep your syllabus on hand as most instructors put weekly assignments and other important information on their syllabus that you will need to reference weekly.    
Use your academic planner – Review your syllabi for future due dates and write-in weekly assignments, deadlines for projects, important dates and deadlines such as the last day to drop a class, etc.  Students who use an academic planner tend to be much more organized and far less likely to fall behind on coursework.  Updating and reviewing your academic planner frequently will ensure you do not fall behind and you are prepared for when a big week is coming up.  
Develop a study plan –Getting yourself organized is very important to your overall success!  This means that you need to plan your week out and make sure you set realistic goals to allow you to meet all your assignment deadlines. Make sure you have a dedicated study area that is comfortable and allows you to concentrate.  You may be surprised to find out that studying in your room with your music on and your door open does not work for you; try other places such as Post 95, the Thomas Library or the lounge on your floor.  Most professors at Wittenberg expect that for every 1 hour of class, you spend 2 hours studying.    
During the Semester
Evaluate your progress in your courses - If you aren't doing as well as you would have liked, then get some extra help from campus tutoring, your classmates, and your professors.  There are multiple ways to get help at Wittenberg.  The Writing Center and Math Workshop are just two tutoring centers that are meant to address some of the most common issues Wittenberg students face.  Hours and links to tutoring center webpages can be found here. Professors always have office hours and most will meet with you outside of those if the need arises.  Don't be afraid to approach them and ask for help, they know the course better than anyone and want you to succeed.     
Study with others - One great way to enhance your learning is to study with others. Develop your own informal study group by asking others in your class to meet regularly to discuss your lectures and assignments. This can help you broaden your knowledge and your social network as well! 
Examine your study habits and make any necessary changes.   Are you studying in a place that has no distractions? Do you have the assigned readings done before class? Are you reviewing your lecture notes before and after class and adding notes of clarification?  How do you prepare for exams?