Geology  focuses on earth materials and their interactions at all time-scales.  Geologists are important to energy security, water scarcity and quality, and understanding landscapes that support food & environmental resources. Geologists work in all areas of society, but principally in environmental consulting, the energy industry, government, and education.
Engaged Learning: Geology students enjoy close interaction with faculty in the classroom, lab, and field. Our courses have extensive field experiences, some of which are tied to global research questions and/or community needs. Geology majors complete a thesis, the topic being selected by the student in consultation with their advisor and completed during the senior year. Many of the thesis topics are parts of larger, on-going research projects developed by the geology faculty. Students present their research to Wittenberg, the Springfield community, and at regional and national Geology meetings! (Pictured: Lindsay Starr, '14 surveying a glacier on the Juneau Icefield Research Program)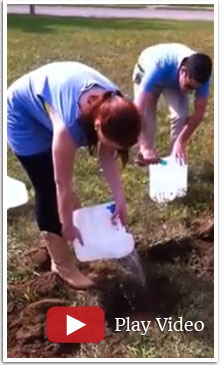 Student Activity Diverse summer experiences available to our students and the success geology students have had in competing for positions or grants associated with them is impressive. Students regularly participate in summer research and internships with external support or University and departmental support through competitive grant programs, research experiences through programs such as NSF's Research Experiences for Undergraduates and the Keck Geology Consortium, and summer field camp. Geology students may also serve as Hagen Center for Civic & Urban Engagement interns working on Buck Creek watershed issues important to Springfield. (Right Video of Melissa Sullivan and city stormwater coordinator, Sky Schelle, (Wittenberg Geology graduate) performing an infiltration test on a vacant lot to evaluate whether it could be used to detain stormwater).
Geology majors pursuing a career in secondary education in math and science may be eligible for the Robert C. Noyce Scholarship. Learn more about the Noyce Scholarship on the Wittenberg Noyce Scholarship homepage.
Activity on the Buck Creek Educational Corridor
Geology of the Critical Zone Blog
Wittenberg Environmental Science 
Friends of Geology : ECO Sports Corridor, Wittenberg Undergraduate Speleothem Society