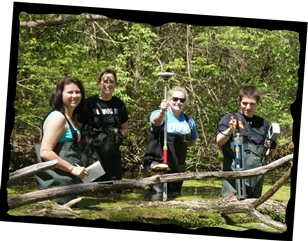 Facilities for geology in Science Hall include five laboratories for use in class, three large preparation-storage rooms adjacent to the laboratories, an aqueous geochemistry laboratory with an Ion Chromatograph, an x-ray analysis and scanning electron microscopy laboratory, a soils laboratory, a seminar-map room, a darkroom, and a microcomputer laboratory with direct access to the University's Alpha computer network and the Internet. Laboratory access is incorporated into many course activities. The Geology Department also has many field meters and test kits, especially for flow and water quality monitoring.  The local stream, Buck Creek, is monitored with telemetry that is available for student use in class.
The Department offers computers with GIS capabilities.  Furthermore there are both teaching and research collections of fossils, minerals, and rocks. Binoculars and petrographic microscopes, multimedia audio visual records of geological phenomena, drafting equipment, are routinely used by students for class exercises.
The x-ray laboratory is equipped with a computer-controlled diffraction goniometer, and three powder cameras. For preparing rock and fossil specimens, one lab features special equipment such as trim and slab saws, lapidaries, and mechanical abrasive cleaning devices. Chemical benches and fume hoods, low temperature drying ovens, centrifuges, analytical balances, vibrolap, and other equipment for the studying sediments are also available to students.
Geology students also complete class-related projects and directed research in the Lutz microscopy laboratory, equipped with a Hitachi S2460N variable pressure scanning electron microscope with Kevex EDS chemical analyzer.
In 1974, David H. Wilson of Louisville, Kentucky, gave a large and exceptionally fine collection of fossils. This collection of more than 30,000 specimens became the basis for a Geological Research and Teaching Center in the Department. This museum enables students to do research on a variety of fossils, minerals, and other geological materials as well as to gain valuable curatorial expertise in designing and constructing museum exhibits. The Center, which has continued to grow because of donations from alumni and friends, is both outstanding and unique for a school of Wittenberg's size.