[[[www.myurl.com/myapp.html]]]
The Buck Creek Educational Corridor is an instrumented five-mile reach of Buck Creek and its tributary Beaver Creek, developed in partnership with Eco-Sports Corridor, Friends of Buck Creek, Springfield Conservancy District, and National Trail Parks and Recreation District. Current instrumentation includes a weather station, a stream gaging station, and four water quality stations, updated hourly in the window to the right. Instrumentation is maintained by Wittenberg Geology students and faculty.
Links
Objectives of the Buck Creek Educational Corridor
Instrumentation on Buck Creek
Student Activity on Buck Creek
The Buck Creek Educational Corridor, is part of Wittenberg's Center for Civic and Urban Engagement and its "Renewing the Core and the Creek" initiative. The objectives of the Buck Creek Educational Corridor are to:
assess the environmental impact of in-stream and watershed changes on water quality over time;
provide problem-based learning opportunities related to stream environments for area K-16 students; and
provide current weather and water information to recreationists taking advantage of recreational amenities along the creek corridor.
Additional information is available on the Buck Creek Educational Corridor Fact Sheet.
The stage-discharge rating curve is being re-calibrated as a result of the impact that the modification of the Snyder Park lowhead dam had on the water profile. This calculator provides an approximation of the discharge based on stage from the Plum Street Gage. To calculate discharge, scroll down to "Plum Street Gauge" in the databox above.
Student work on Buck Creek is supported by two internships from the Center for Civic and Urban Engagement (CCUE) and summer research grants from Wittenberg's Student Development Fund and the Geology Department's Floyd B. Nave Endowment.
2009
Kelly Shaw '11, a major in geology and minor in political science, is collecting baseline data on water qualityat each of the dam sites in order to augment the data being logged continuously along the project reach.  The parameters she is measuring include nitrates, phosphates, chlorides, and hardness.  Kelly is using a Hach DREL/2010 Advanced Water Quality Laboratory and the DR/2010 Spectrophotometer for her analyses.
Chad Rigsby '11, a major in biology, is studying stream macroinvertebrates upstream and downstream of each of the dam sites.  The objectives of his work is to understand the impact of the lowhead dams on the macroinvertebrate community.  For each lowhead dam, he is sampling the pooled area immediately upstream of the dam, an area further upstream that is unimpacted by the dam, characterized as the first riffle environment immediately upstream of the pooled area, and the downstream recovery riffle.  He is using OEPA standard operating procedures for qualitative sampling and analysis of aquatic organisms which will make data comparable to other streams in Ohio.  Chad's data will form a baseline dataset characterizing the condition of Beaver Creek and Buck Creek prior to lowhead dam modification or removal.
Daniel Brennan '10, with support from a Student Development Board Summer Research Grant, is installing a gaging station on Beaver Creek, just upstream of its confluence with Buck Creek.  He will develop a stage-discharge rating curve for Beaver Creek in order for us to determine relative contributions to downstream flow from USACE releases from C.J. Brown Reservoir and Beaver Creek. 
Aaron Evelsizor '11, with support from the Floyd R. Nave Endowment Award, is refining the QHEI determinations and doing detailed clast counts at each of the dam sites.  He is positioning his analyses relative to the engineered plans in order to provide pre-modification baseline data on the physical habitat and channel bed properties for comparison to post-modification conditions. 
Instrumentation along the Buck Creek Educational Corridor was selected to enable students and instructors to study the relation between rainfall, streamflow, and water quality.  The Weather Station is a Vaisala Weather Transmitter WXT520 located on top of Wittenberg's Science Building.  It provides wind speed, wind direction, barometric pressure, relative humidity, liquid precipitation, and air temperature.  Barometric pressure is absolute, not currently adjusted to sea level.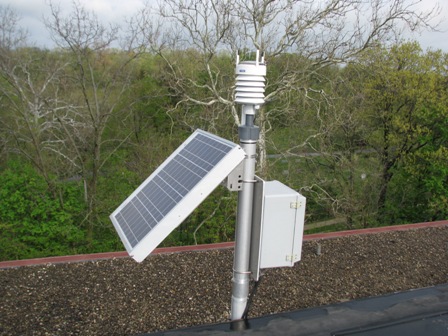 The Stream Gaging Station is located in existing USGS/USACE gaging station housing west of the Plum Street bridge.  It measures changes in water level, which eventually will be converted to stream discharge as well as depth at each of the recreational sites.  The latter information will be of interest to kayakers and canoeists as it will control the hydraulics of flow through constrictions at the recreational sites.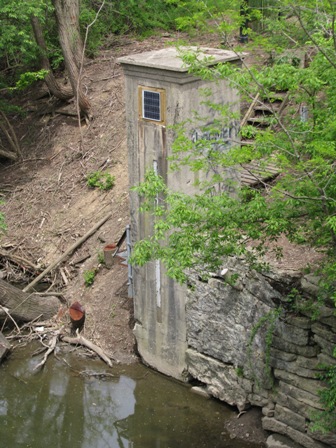 Two Water Quality Stations are located upstream and downstream of the first two lowhead dams that will be modified in order to assess the quality of water as it changes through the reach as a function of the dam modifications.  The water quality monitors provide temperature, pH, conductivity, oxidation-reduction potential (ORP), dissolved oxygen, and turbidity data.