A key strength of our Marine Science Program comes from the many opportunities for field study, ranging in length from a week to a semester. These practical, hands-on experiences often lead to more extensive collaborative research projects with faculty members. 
Extended field  experiences offered with semester courses: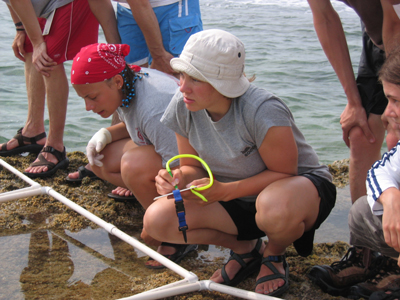 If you take Marine Ecology or the Biology of Marine Invertebrates, you can participate in an optional 5-day field trip to the Duke Marine Laboratory in Beaufort, North Carolina. On these trips, you stay in the residence halls at the Marine Lab campus while collecting organisms and conducting experiments in the local marine habitats. In Biology of Marine Invertebrates, we travel near the end of the semester; you observe the organisms covered in class in their natural habitats. In Marine Ecology, we travel early in the semester; on this trip you conduct experiments and collect samples that form the basis of the laboratory exercises for the remainder of the semester. We also offer a freshwater ecology field experience with our Limnology course, in which you will learn water quality analysis and fish and invertebrate sampling techniques that are similar to oceanographic research methods. In this program, you travel to southern Indiana, the Hocking Hills area in southeastern Ohio, or the mountains of southwestern Virginia, where you survey a variety of streams while camping at sites near the streams.
Off-campus programs with marine focus:
Comparative Communities, Bahamas 
This four-week program is offered during alternate summers at the Gerace Research Center, San Salvador, The Bahamas. In this program, you will experience the culture of the island of San Salvador while you explore terrestrial and marine environments on daily field trips to coral reef systems and other tropical marine communities. You will spend several hours each day snorkeling as you learn to identify reef fish, invertebrates and plants; certified SCUBA divers may also choose to dive as part of the program (a NAUI
scuba certification course is offered at Wittenberg). We also visit a local cave, hike in the interior of the island, swim to nearby cays, and survey the intertidal organisms of the rocky shore. After exploring a variety of habitats, you will identify a question of interest, propose a hypothesis to answer the question, and design and conduct a field research project to test your hypothesis. Most students present their findings at scientific meetings during the following academic year.
Duke University Semester Program:
Junior or senior students interested in marine science may be recommended by the Biology Department to
attend the Duke University Marine Laboratory in Beaufort, North Carolina during the fall or spring semester. At the Marine Laboratory,you can take a variety of courses in marine biology, geology, conservation and policy. If you attend during the fall semester, you will remain in residence at the Marine Laboratory for the entire semester; most students choose to conduct independent research projects. During the spring semester, you can choose to spend half the semester at the Bermuda Biological Station through a cooperative program with Duke, or you can choose from a variety of study-abroad opportunities within the Duke course offerings. Selection for the Duke program is based on interest, previous course work, grade-point average, faculty recommendations, and a personal interview.
Cooperative Program in Environmental Studies: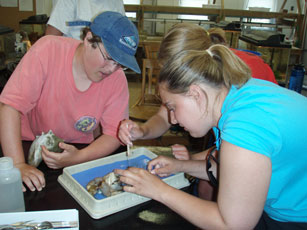 Wittenberg offers a 3-2 program in Environmental Management with Duke's Nicholas School of the Environment and Earth Sciences. This program leads to a professional Master's degree in Environmental Management (MEM). Although there are several tracks within the MEM program, our students interested in marine science often find the Coastal Environmental Management program of particular interest. Students who participate in this program spend their first three years at Wittenberg completing the general education program and a significant number of courses in their major, including the prerequisite courses required for admission to the Nicholas School of the Environment and Earth Science. Students then apply for admission to the program at Duke. Upon acceptance to Duke, students begin work on a Master's degree in Environmental Management. After completing the first year at Duke's Nicholas School of the Environment and Earth Sciences, students receive the Bachelor of Arts degree from Wittenberg. This program is particularly appropriate for students interested in environmental management of coastal systems or marine policy.