The Music Department is one of the University's most active departments, with many students (both music majors and nonmajors) enrolling in lessons, ensembles, and classes.
The department combines an excellent faculty and first-rate facilities in the midst of a small, residential college. The Music Department has been an accredited member of the National Association of Schools of Music for more than 80 years.

Why choose Wittenberg? Read comments from students. At Wittenberg, you will find many opportunities to get involved with music: take lessons, take courses in a variety of areas (music theory, music appreciation, world music, popular music, and much more), perform in a music ensemble or two, or attend concerts in one of our several performance venues.
More than $350,000 in music scholarships are awarded annually, available to all students regardless of major. We hope you will audition! Learn more »
Have questions about Wittenberg's music program? Contact:

Dr. Daniel Kazez, Professor of Music & Music Admission Coordinator
dkazez@wittenberg.edu
tel: 937-327-7354 (or 800-677-7558, ext. 7354)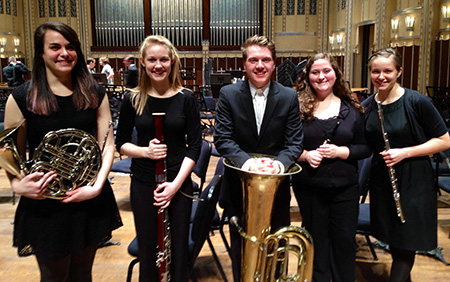 Congratulations to Caitlin Lobl '16 (horn), Sophia Hulen '17 (bassoon), Justin Krupa '17 (tuba), Emily Rayens '16 (flute/piccolo), and Katie Lyle '15 (flute) on an outstanding performance with the 2014 OPCICA Honors Concert Band at Severance Hall in Cleveland, Ohio. (Photo at right.)
News
9/21/2014 Music Major Sean Doyle Elected Freshman Class President
8/25/2014 Ellen Graham Appointed Adjunct Instructor of Voice and Director of Opera Studio
8/25/2014 Keith Kile appointed Adjunct Instructor of Tuba and Euphonium
6/12/2014 Midwest Oboe and Bassoon Camp to be held at Wittenberg
6/2/2014 Dr. Frances Fonza appointed Director of Choirs
5/15/2014 Robert A. Hobby, BM '85 given honorary doctorate
5/8/2014 Alexa Konowal and Elaina Vimmerstedt are co-recipients of the 2013-2014 Elmer Blackmer Award
3/14/2014 David Crean, Wittenberg University Organist and Adjunct Instructor of Music, begins Australian concert tour
2/2/2014 Witt students attend college honors band festival
1/31/2014 Battle of the Batons! (orchestration and music editing by Tim Olt, Adjunct Instr. of Tuba & Euphonium)
1/4/2014 Music Dept. releases version 2.1 of its iPhone app InTune
12/29/2013 Music Dept. celebrates 80th Anniversary of NASM Accreditation
12/19/2013 Music Dept. announces its Spring 2014 Concerts and Recital
12/13/2013 Lessons and Carols for Advent and Christmas
9/23/2013 David Crean, University Organist and adjunct instructor of music, is a featured performer on this week's radio broadcast of American Public Media's Pipedreams (recorded live in Alice Tully Hall, Lincoln Center). Click here, click on 1338 Hour 2, and then slide to time setting 97:39.
8/26/2013 New adjunct faculty: Kimberly Buczek, David Crean, William Mattox, Jeanne Norton
7/9/2013 National Association of Schools of Music Re-accreditation