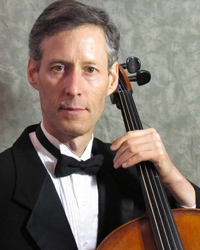 Join Wittenberg cellist Daniel Kazez for an evening of playing and learning.
Wed., Nov. 7, 7:15-9:00 pm
Wittenberg University, Krieg Hall
For grades 9-12
Free admission
Please bring a short selection of music to perform. Pianist David Hapner will provide piano accompaniment. Here is a schedule for the evening:
7:15 - Masterclass
8:00 - A cello video
8:15 - Small cello ensembles
9:00 - Adjourn!
The workshop will be in Krieg Hall (the music building), at the corner of Ward Street and Woodlawn Avenue. If you are visiting Wittenberg from out of town, you might wish to check this list of Springfield hotels.
Advanced registration is required. You may register by email or phone:
Dr. Daniel Kazez, dkazez@wittenberg.edu
Professor of Music
tel: 800-677-7558, extension 7354
Or you may register using this form:

Daniel Kazez has performed solo concerts throughout the world: London, Paris, Brussels, Salzburg, Paris, Florence, Rome in Europe; Poland, Hungary, and the Czech Republic in eastern Europe; Istanbul (Turkey); Bangkok (Thailand) and Tokyo (Japan) in Asia; Casablanca and Morocco's three "imperial cities" Meknes, Marrakesh, and Fez in Africa. He has also performed in international music festivals in Berlin, Prague, and India. Kazez has recorded with a Bombay film orchestra in the 2006 movie Hum Ko Deewana Kar Gaye. Kazez is the author of more than a dozen scholarly articles on music theory, pedagogy, and performance.
Pianist David Hapner holds degrees in music from Goshen College and Wichita State University and was awarded the Koldofsky Memorial Scholarship at the University of Southern California. In addition to working with instrumentalists, Hapner has worked in musical theatre and opera, including productions of Verdi's Tosca starring Placido Domingo, the world premiere of Leonard Bernstein's Quiet Place, and a major performance with singer Kiri te Kanawa.
Photos from Previous Performance Workshops