Join Wittenberg pianist Christopher Durrenberger for an evening of playing and learning.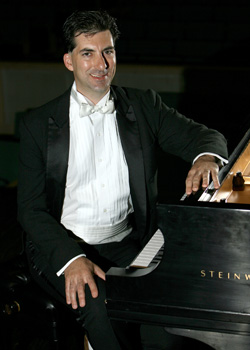 Here are details regarding this event:
• date and tba, 7:00-9:00 pm
• Wittenberg University, Krieg Hall
• For grades 9-12
• Free admission
Bring a short selection of music to perform. Or you may attend as an observer. Here is a schedule for the evening:
7:00 - Choreography of the hands: essentials to a healthy technique
7:30 - Student solo performances
8:00 - Piano anatomy 101: a brief tour of the instrument
8:30 - Student solo performances
The workshop will be in Krieg Hall (the music building), at 632 Woodlawn Ave. Parking is available across the street from Krieg Hall (due north, on the other side of Ward Street) in the Student Center Parking Lot, and in the Krieg Hall Parking Lot (on the east side of Krieg Hall). If you are visiting Wittenberg from out of town, you might wish to check this list of Springfield hotels.
Advanced registration is required. You may register by email or phone, or you may use the form at the bottom of this page.
Dr. Christopher Durrenberger, cdurrenberger@wittenberg.edu
Associate Professor of Music
tel: 937-327-7371 (or 800-677-7558 ext. 7371)
Christopher Durrenberger has received top prizes at major competitions, including Coleman and Carmel, the Los Angeles Etude Musical Club, Young Keyboard Artists Association, and National Music Teachers Association. He has performed throughout the world, including at the Sarasota and Aspen Music Festivals, Cairo Opera House, and Taipei National Hall. A frequent contributor to Piano & Keyboard magazine, his publications include reviews of hybrid electronic keyboards and articles on piano technology/repertoire. Durrenberger has been a frequent presenter for World Piano Pedagogy Conferences and the Music Teachers National Association.
---
Register for Piano Night!