I arrived in New York on a beautiful fall day to attend the Student Conference on U.S. Affairs (SCUSA) at West Point Military Academy as Wittenberg University's delegate.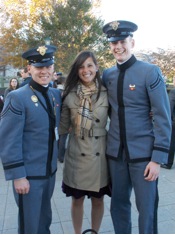 Dressed in my business attire and entirely unsure what to expect, I loaded my bag onto the U.S. Military Academy bus which drove me and the other well-dressed delegates onto the base. Immediately after passing through the secure gate, I was acutely aware of the strong sense of tradition that was not only a major part of the foundation of the institution but also a crucial part of the culture on campus. With exact and military precision, we were unloaded from the bus, given sheets and blankets, shown our rooms, and sent off to work.
The 62nd SCUSA conference, made up of topic meetings, panel discussions, lectures, and a keynote address, centered on the theme of U.S. hegemony and whether it can be maintained in this ever-changing world. The conference was made up of around 170 students, many of which were foreign exchange students, about 50 of which were cadets at the Military, Naval, and Air Force Academies. We were separated into 16 roundtable groups, each presented with a topic and a mission: to write a policy paper on our topic that would be published and, if selected by the conference leaders, could be presented to Congress as a viable policy option in the future. The SCUSA 62 topics ranged from U.S.-China Relations to Nuclear Proliferation to Global Warming, and each group was lead by notable and published experts in the field. My roundtable theme was "Domestic Sources of U.S. Foreign Policy: Challenges to Achieving "Whole of Government' Solutions". Our roundtable focused on the central assumption that a strong internal structure and government is key to maintaining an effective foreign policy, and utilized this concept to formulate our policy suggestions.
Our roundtable, made up of only 10 people (the second smallest group in the conference), suggested policies that we believed would alleviate fundamental issues in bureaucracy in order to make possible a change in bureaucratic culture. For example, as bureaucracy works currently, there are many incentives for agencies to act in their own, individual interest. From competing with each other for funds to spending leftover funds at the end of the fiscal year to prevent budget reductions, money was indeed one of our main concerns. In addition, we found general lack of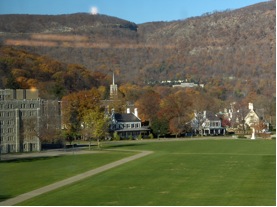 interconnectivity to be a major issue. With a main goal of changing bureaucratic culture and with these two major areas as a focus for policy change, we developed ideas for an interagency exchange program for promotions past a certain pay-grade, as well as budgetary practices that do not penalize agencies for under-spending.
Our time between roundtable sessions was filled with speakers, panels, and a keynote address, all focused on topics of U.S. hegemony and maintenance of this power in the future (plus a tour of the incredibly beautiful campus and a weapons display for our entertainment). Not surprisingly, many of the speakers were military figures, who gave an interesting, if biased, view on the topic. As someone who has no close family in the military, the views of these authorities as well as my cadet peers were sometimes quite unexpected and extremely enlightening, in many ways. It never occurred to me the incredible appropriateness of hosting a conference for U.S. affairs at West Point, a military academy, as the U.S. is known for viewing political force and military force as one in the same. The cadets and military leaders alike held views that in many ways supported this understanding, but certainly caused me and the other non-military delegates to consider the implications of this system. Can a hegemonic power that translates soft and hard power into military force and presence sustain power and control?
In many ways, my experiences at SCUSA left me with more questions than answers. While the obvious, more immediate problems in U.S. foreign policy, such as issues in the Middle East and a changing relationship with China, did play a significant role in the conference, issues which are not so well known had a greater and lasting impact on me. For example, one roundtable addressed the changing relationship with Europe is cause for concern, in many ways, as the EU continues to exclude Turkey from membership. Likewise, cyber-security increasingly becomes a major issue as more and more computers and networks are interconnected. My short time at West Point certainly taught me quite a bit about military life and culture, and it opened my eyes to the complexity of our nation's actions and relationships abroad. I learned so much in four rigorous days away from our campus, and I owe a great thanks to Wittenberg and the Political Science department for giving me this wonderful experience.