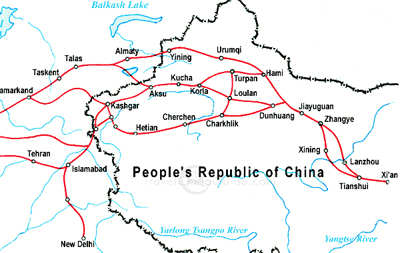 Orientation: 3 one-hour meetings on the Wittenberg campus – tentatively March 6th, April 3rd and May 1st
 Topics: Introduction of participants & to the program, experiential learning and course expectations; passports, visas & other program mechanics; What to bring, expect & prepare for.
International Travel to Beijing:  Arrive at Beijing Capital International Airport by mid-afternoon, Monday, May 19th.  Program officially begins.
Program Itinerary & Activities
Beijing:  Meet in arrival area of Beijing Capital International Airport; quick visit to Tiananmen Square; dinner
Travel to Xi'an: overnight sleeper train
Xi'an: 7 days at Northwest University
  Lectures, discussions & presentations: Introduction to Shaanxi Province and Xi'an: geography, history and walled cities; Education in China; Religions along the Silk Road (Buddhism, Islam & Christianity); Xi'an's ethnic Hui community; Tang Dynasty culture; Local artifacts from the Silk Road; Contemporary China: local government, economy & population issues
 Group activities: Map the Northwest University campus and walled city; Meet with Imam, Hui students and Street Office officials; Excursions to Qin Shihuang Mausoleum and Terracotta Warriors
 Experiential learning options: Meet Chinese university student and families; Historic Xi'an ( city wall, Drum & Bell Towers and Banpo Neolithic village); Shaanxi Provincial, Xi'an City, and Steles museums; Big Wild Goose and Small Wild Goose Pagodas; Tibetan Lamasary; Great Mosque; Muslim night and neighborhood markets; Culture & play: Chinese medicine college/hospital/clinic; traditional foot massage; Tang Song & Dance performance; sports; individual interests
Travel to Jiayuguan: 1 day by overnight sleeper train
Jiayuguan: 2 days
 Lectures, discussions & presentations: Historical expansion of China westward; Great Wall; Introduction to oases and deserts; Frontier literature; Pastoral nomads
 Group activities: Climb the westernmost section of the Great Wall; Jiayuguan Fort; Great Wall Museum
  Experiential learning sites: Night market; individual interests
Travel to Dunhuang: 1/2 day by bus across the Gobi
Dunhuang: 3 days
  Lectures, discussions & presentations: History and importance of Buddhist caves and Dunhuang; Buddhist patrons; Foreign devils on the Silk Road          
  Group activities: Mogao caves; Meal with local family
  Experiential learning sites: Dunhuang Museum; Singing Sands & Crescent Lake; Night markets; White Horse Pagoda; Oasis village; Buddhist monastery; individual interests
Travel to Turfan: 1 night by overnight sleeper train
Turfan: 4.5 days
 Lectures, discussions & presentations: Introduction to Xinjiang and Turfan: geography, climate, history, contemporary social structure and economy; Silk Road life & travelers; Silk Road technological exchanges
 Group activities: Map the town; Tuyugou village: grapes & mulberries, caves, mosques and Yemeni tomb; Astana graveyard; Gaochang; Uighur Song & Dance performance; Visit Uighur home
 Experiential learning sites: Turfan Museum; Karez; Emin Mosque; Turfan bazaar; Bezeklik caves; Jiaohe; Sand therapy center; individual interests
Travel to Urumqi: ½ day by bus
Urumqi: 1.5 days
  Lectures, discussions & presentations: Ethnic minorities in Xinjiang; Han migration westward; Nomads
  Group activities: Overnight yurt camp in Nanshan grasslands; Xinjiang Uighur Autonomous Regional Museum
  Experiential learning sites: International and Erdaoqiao bazaars; Grand Mosque; individual interests
Travel to Hotan: by air across the Taklamakan Desert
Hotan: 5 days
  Lectures, discussions & presentations: Introduction to southern Xinjiang and Hotan: history, economic transition; Silk, jade and paper; Student presentations
  Group activities: Sunday bazaar; Taklamakan camel trek; Visit artisan families; Sheep dinner with Uighur family; Student presentations
  Experiential learning sites: Jade carving, silk, carpet, knife and hat factories; Silk & Mulberry Research Institute; Jade mining; Uighur Traditional Medicine College; individual interests
Travel to Beijing: by air with overnight stay in Urumqi
Beijing: 2 – 3 days
  Group activities: Great Wall and Yuan Gate at Juyong Pass; Dinner with Han families; Farewell banquet
  Experiential learning sites: Complete program requirements and/or individual interests