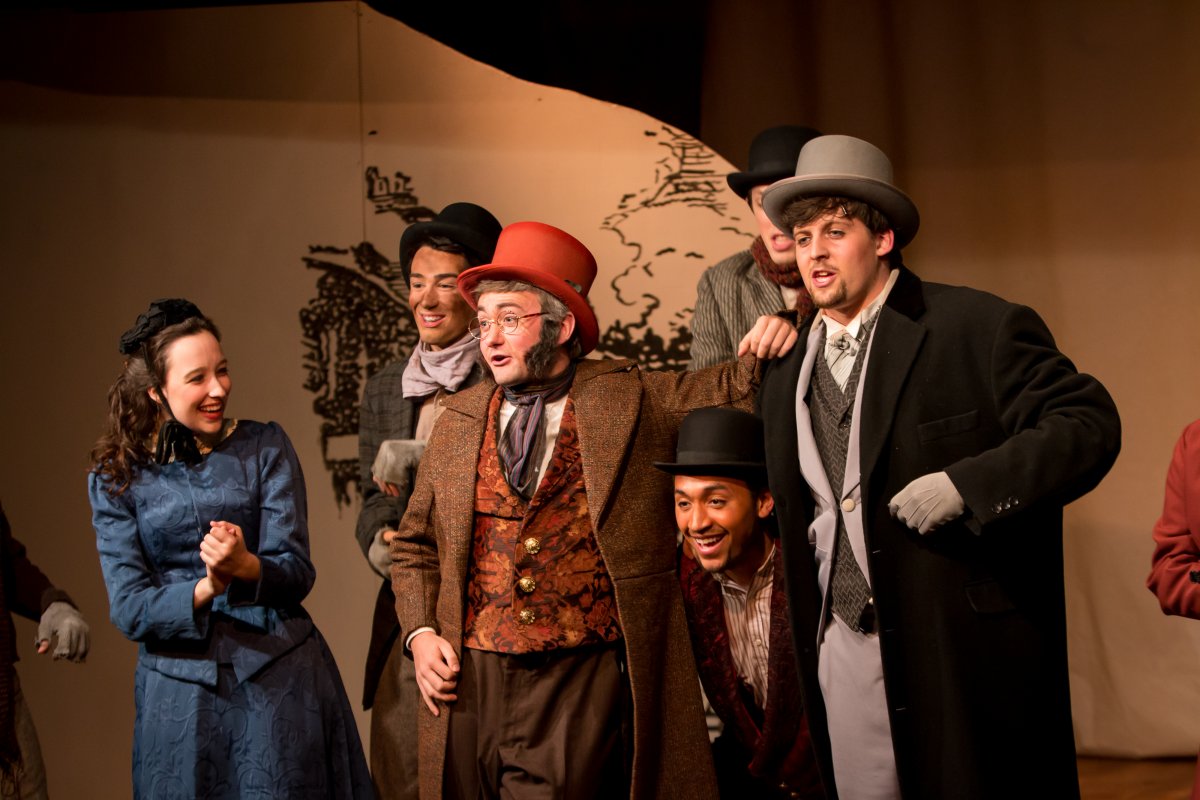 The Mystery of Edwin Drood, 2014
The Department of Theatre and Dance offers several scholarships:
Fine Arts Scholarships in theatre or dance are awarded for up to $5,000 per year and are renewable annually. Any entering student may apply for these scholarships.
Thespian Scholarships are awarded for $5,000 per year and are renewable annually.  Only students who are members of Ohio Thespian Troupes may be nominated for these scholarships.  They are awarded based on the nomination of Thespian Troupe directors who have been troupe directors for at least three years.
Wittenberg wants to recognize the accomplishments of all deserving students; therefore, students will receive the highest merit-based scholarship or special award from Wittenberg for which they qualify. Although financial need is not a determining factor in the scholarship process, students who demonstrate financial need greater than the amount of their scholarship will be eligible to receive other types of need-based assistance.*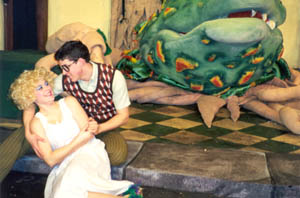 ​How to apply for a Fine Arts Scholarship
Write a letter indicating that you are applying for a Theatre and Dance Department Scholarship and indicate your specific area of expertise, e.g. acting, directing, dance, design, playwriting, stage management, technical theatre, etc. Explain how participating in theatre or dance at Wittenberg will help you achieve your academic, vocational, or personal goals. Also include your photo, a resume detailing your theatre and/or dance experience and a letter of reference from a teacher, director, or choreographer attesting to your theatre and/or dance ability. Mail these items to: Sue Apple, Office Manager, Wittenberg University, P.O. Box 720, Springfield, OH 45501.
 
Schedule an audition and/or interview with members of the theatre and dance faculty. For the acting audition, you should prepare two contrasting two-minute monologues. For technical theatre, design, stage management, playwriting and other theatre interviews, bring a portfolio of your work to your interview. For the dance audition, you will be taught a brief routine, participate in an appropriate technique class, and perform a dance of less than three minutes that you have choreographed or that has been set for you.
 
For all theatre auditions/interviews or all dance auditions, contact Sue Apple, Office Manager at 1-800-677-7558 ext. 7469
 
If distance or time prevents a visit to campus, you may send a video of your theatre audition pieces, a portfolio of designs and a resume of technical experience, or other significant examples of your theatre work, such as a research paper, original script or stage manager's prompt book. Please note: if you are applying for a dance scholarship, you must audition in person with a member of the dance faculty.
Deadlines:
Fine Arts Scholarship deadline: March 1.
How to apply for a Thespian Scholarship
Qualified students from Ohio who demonstrate dedication, ability, and desire to succeed in college-level theatre may be nominated for a Wittenberg University Thespian Scholarship by their high school Thespian Troupe director. These $5,000 scholarships are renewable annually, recognize theatrical achievement and potential, and are awarded based solely on the director's nomination and the student's successful application to Wittenberg. Each nominee must meet all admission standards and must complete the admission process no later than Mar. 1 of the year in which he or she plans to enroll.  Additional financial aid and scholarships are available to nominees through Wittenberg's Financial Aid Office.
To be nominated for a Thespian Scholarship, speak to your Thespian Director and ask that he or she consider nominating you.  If they agree, they should come to this page and click on the Thespian Scholarship Form tab below and complete their nomination online; it's a simple process.  You need to complete an application for admission and be accepted to Wittenberg before you can be awarded a Thespian Scholarship.
Ohio Thespian Scholarship deadline:  March 1.

*The combined total of theatre, dance, Thespian, and all other Wittenberg scholarships cannot exceed $25,000 annually.
Questions about the Department of Theatre and Dance and the audition and interview process may be directed to Sue Apple, Office Manager at 800-677-7558, extension 7464 or via email at sapple@wittenberg.edu.