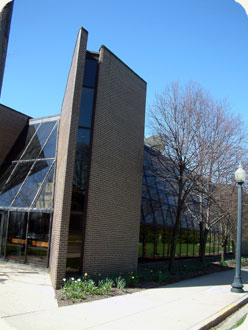 210 Shouvlin Center
937-327-7521
937-327-7509 (fax)
Office Hours:
ACADEMIC YEAR
Monday-Friday:
8:00 a.m. to noon and 1:00 p.m. to 5:00 p.m.
SUMMER HOURS:
8:00 a.m. to noon and 1:00 p.m. to 4:00 p.m.
We will be visiting recruiters during the summer, so please call to see if we will be in the office and for an appointment.
Director Walk-in Hours
DURING ACADEMIC YEAR ONLY: 
Monday 1:30 p.m. -3:30 p.m.,  Tuesday 10:00 a.m. - 11:30 a.m.,  Thursday 1:30 p.m. - 4:00 p.m.
Short  10-15 minute meeting-ideal for quick questions, resume, cover letter and personal statement critiques.
Appointments available on request.
For help with choosing a major, learning about career options, or developing an action plan to maximize success in finding post-graduate employment, it is advised to schedule an appointment.  Click here for appointment/interview policies.
Our Mission:
The mission of Wittenberg University Career Services is to provide quality services that help students effectively choose, prepare for and launch meaningful and rewarding careers. Using both personalized and technological resources, we assist students in enhancing their Liberal Arts education with "the power of experience". The Career Services office supports the university mission to help students develop a sense of vocation.
Supporting Goals:
•  Provide individual career consulting to assist students in understanding the relationship of their values, interests, personality, abilities and sense of vocation to a changing work world.
•  Guide students through creating personalized four-year plans to help them make the most of their Wittenberg experience and to maximize their career potential.
•  Direct students to experiential learning resources related to their goals, including summer jobs, volunteer work, internships, and special study programs.
•  Provide services to seniors to assist them in making the transition from Wittenberg University to graduate/professional schools or the world of work.
•  Maintain a network of Wittenberg alumni, parents and friends to advise and provide contacts for students and alumni in a wide range of career fields.
What Can We Do for YOU?
Career Services will help you make connections: with vocation, with majors, with internships, with potential employers. Your success in using those connections to find your calling will ultimately depend on the steps you take to build self knowledge and experience while at Wittenberg.
We can help you:
bridge the gap between the classroom and the real world,
learn about your interests, skills, abilities, and values,
synthesize your experience into a strong résumé,
broaden your network of contacts,
investigate further educational options,
change the way you look at the world - and how you see your place in it.
By pursuing the experiences outlined in the 4-year plan, you'll be ready for the world by your senior year.