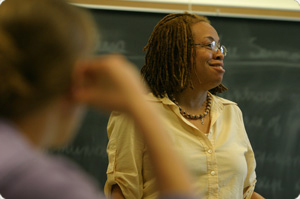 Courses relevant to an increasingly diverse world
Africana Studies is the study, research, interpretation and dissemination of knowledge concerning African-American, African and Caribbean affairs and culture.
Why offer Africana Studies?
Africana Studies occupies a central role in understanding modern American life. It acknowledges that people of African descent have contributed significantly to the making of the United States and have played a vital role in world history and culture.
Africana Studies directly engages the issues of race and difference, pulling together courses that are relevant to an increasingly diverse world, a world within which our students need to know how to function.
Because Africana Studies embraces a wide spectrum of experiences and issues, the program is multi- and interdisciplinary in its approach. Students may choose courses among many disciplines, including English, history, sociology, music, religion, political science, Spanish, and theatre and dance.
As a program which embodies the liberal arts mission, the primary objectives of the Africana Studies minor are to:
Foster interdisciplinary study in the humanities, arts and social sciences.
Stimulate students within a learning environment that encourages appreciation of the history and culture of African peoples.
Explore the diversity and range of thought in the African Diaspora.
Teach the economic, psychological and social situation of blacks past and present.
Degrees offered
Minor: Africana Studies
The minor complements many majors at Wittenberg.
Requirements
A minimum of 22 semester hours is required for the minor, 10 of which must be at the 200 or higher course level, with at least four semester hours in the social sciences, four semester hours in history, four semester hours in literature, and two semester hours for the Senior Project.
Courses
The introductory course is designed to introduce you to the discipline of Africana Studies. The class focuses on major questions such as the influence of cultural integrity and the political struggle for equality in two hemispheres on cultural traditions, values and social institutions. Of particular interest is the Diasporic transformation of identity over the last two centuries as Africans have been exposed to European colonization and exploitation.
Topics in Africana Studies explores specific themes in African, African-American and African Diasporic studies; the theme varies from semester to semester.
You will choose your courses in consultation with the Africana Studies minor adviser and the Program Advisory Committee. The following is a list of courses approved for the program:
Africana Studies
201: Introduction to Africana Studies
270: Topics in Africana Studies
492: Africana Studies Senior Project
English
180: Slave Narrative
190: Afro-Caribbean Studies
313: African American Literature
315: Novels of the African Diaspora
330: Major Author (when African-American)
History
170: Topics in African History
171: African Societies to 1500
172: African Societies Since 1500
203: Slavery in the Americas
230: African American History
270: Topics in African History
Music
Political Science
Religion
176: Racism and Social Ethics
375: Advanced Social Ethics: Racism
Sociology
277: Islam and Islamic Societies
301: African American Social Thought
430: Race Matters: Identity and Experience in U.S. Society
Spanish
130: Caribbean Literature
Theatre and Dance
112: Dance in Popular Culture
210: Dance Ethnology
Senior Project
During the senior year, our minors are required to complete a two-credit Senior Project that explores the Black Diasporic connections between academic disciplines. Students often study and analyze the intersection of Africana Studies and their major. For example, one student produced and directed a compilation of scenes from plays by two important African American playwrights while another planned a Black Knowledge Conference for the Wittenberg community in conjunction with the Office of Multicultural Student Programs.
Study abroad
Africana Studies minors travel abroad to Africa and South America to study issues concerning the African Diaspora.For the last several years, Associate Professor of History Scott Rosenberg has led a popular, four-week summer program to the South African Kingdom of Lesotho. Participants take two courses in Africana Studies (Africana Studies 270 and History 270) and work with Habitat for Humanity and local orphanages.
Events
A variety of colloquium, lectures and performances are sponsored by the Africana Studies program. Recent events include:
Celebrating Women of Color, an annual event that provides an opportunity for the women of Wittenberg and the greater Springfield community to celebrate the contributions of women of color. The event is scheduled to bridge Black History Month and Women's History Month.
Africana Studies Colloquium, presented annually by the Africana Studies program and showcasing a groundbreaking guest-scholar in the field of Africana Studies.
Placement
Our graduates have pursued a variety of opportunities after graduation, including working for the legislative offices of the Ohio state government, the FBI, a women's activist group in South America, and as teachers. Others have pursued advanced degrees in Africana Studies.
Faculty
Faculty who teach in the Africana Studies program represent many different academic departments, including English, history, political science, foreign languages, religion, sociology and dance. Their scholarly interests include Afro-Caribbean national identity, African history, racial and ethnic politics, Spanish literature and Latin American civilization, among others. For more information, contact:
Dr. Carmiele Wilkerson,
program director and associate professor of English,
(800) 677-7558, ext. 6127, or
cwilkerson@wittenberg.edu