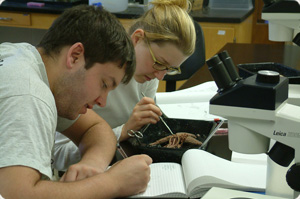 Study marine science in Ohio? Absolutely!
Not only does Wittenberg offer a variety of marine opportunities on campus, we have a 30-year tradition of exciting field opportunities at the Duke University Marine Laboratory in Beaufort, North Carolina, and the Gerace Research Center in the Bahamas.
Our students conduct marine-related research projects on campus, in field programs and during internships at marine laboratories around the world. Many students publish their results and present their findings at conferences.
At Wittenberg, we teach marine science in a liberal arts context. In addition to studying marine science, you will learn to think critically, write clearly and speak effectively about a wide variety of subjects. A broad background in the foundational sciences is best for pursuing advanced study or work in the marine sciences. Graduate programs regularly tell us that they prefer to work with our students because they have a clear understanding of basic concepts and can think critically and write well.
Our graduates have found exciting and fulfilling jobs at aquariums and marine laboratories around the country, and have pursued graduate degrees in marine science at top universities.
Degrees offered
Minor: Marine Science
To gain a solid foundation in the field, you will take courses in marine ecology, oceanography, physical or environmental geology, and other marine science electives inside and outside your major, as well as participate in a marine field experience and conduct research on a marine topic that interests you.
Field studies
To truly understand the science of marine environments, you must have hands-on experience in the field, and Wittenberg takes great pride in offering many field experiences ranging in length from a week to a semester.
Field trips: Our Marine Ecology and Marine Invertebrate courses offer optional field trips to the Duke Marine Laboratory to collect and identify organisms, conduct experiments, and see a variety of local marine habitats. Our Limnology course offers a freshwater ecology field experience in southeastern Ohio, southern Indiana or the mountains of southwestern Virginia. You will learn water quality analysis and fish and invertebrate sampling techniques similar to oceanographic research methods.
Comparative Communities, The Bahamas: This four-week program is offered during alternate summers at the Gerace Research Center in San Salvador. Students explore terrestrial and marine environments of coral reef systems and other tropical marine communities, then design and conduct a field research project.
Duke University Semester Program: Juniors or seniors recommended by the biology department can attend the Duke University Marine Laboratory for a semester. There students take a variety of courses in marine biology, geology, conservation and policy, and most conduct independent research projects. Courses taken at Duke can count toward major and minor requirements at Wittenberg.
Cooperative Program in Environmental Studies: Wittenberg offers a 3-2 program in environmental management with Duke's Nicholas School of the Environment and Earth Sciences, which leads to a master's degree in environmental management (MEM). Participants spend three years at Wittenberg completing the general education program and a significant number of courses in their major, including courses required for admission to Duke. Upon acceptance to Duke, students work on a master's degree in environmental management. After completing the first year at Duke, they receive a bachelor of arts from Wittenberg.
Facilities and resources
The Barbara Deer Kuss Science Center features state-of-the-art classrooms, computer facilities and laboratories. Field equipment includes a research vessel with multi-probe water quality meters, open water and substrate samplers, electronic data loggers and GPS locators. Students also have access to a GIS Resource and Mapping Laboratory, saltwater aquaria, an extensive collection of marine invertebrates, simulated streams, environmental chambers and microscopy equipment.
Research opportunities
With faculty guidance, many students develop research projects during the semester or summer, both on campus and in field locations, some of which are funded by Wittenberg. Often the results of these projects are published in peer-reviewed journals. Many students present their work at academic conferences such as the Ohio Academy of Sciences, the National Conference for Undergraduate Research, and the Benthic Ecology Meetings. Examples include:
Assessing the potential impacts of coastal development on the grass shrimp, Palaemonetes pugio
Geographic variation in response of fiddler crabs to three hexose sugars
Using molecular tools to identify species of fiddler crab larvae in a North Carolina estuary
A comparison of sea cucumber population dynamics in protected and unprotected habitats near Chumbe Island, Zanzibar, Tanzania
Study abroad
Our major requirements are designed with flexibility so that students may study abroad. Our students have studied in England, Denmark, Australia, Scotland, Wales, Ireland, Italy, Spain, Japan, Germany, Korea, Kenya, Greece and Austria.
Summer internships
Several students receive internship or research funding to study at marine laboratories or field stations around the country or abroad at institutions such as:
Dauphin Island Sea Laboratory, Alabama
Duke University Marine Laboratory, North Carolina
Harbor Branch Oceanographic Institution, Florida
Keck Geology Consortium, Southeast Australia
Newport Aquarium, Newport, KY
NOAA Division of Protected Resources, Massachusetts
University of Maine, Darling Marine Center
Career opportunities
Virtually any aspect of basic science can be studied in a marine setting, allowing for a variety of employment opportunities and graduate programs. Our graduates are working in many different fields, in positions such as:
Field biologist, Endemic Bird Restoration, Hawaii
Manatee trainer, Cincinnati Zoo
Marine educator, North Carolina Aquarium
Protected species/marine mammal observer, ECOES Consulting, Cocoa Beach, Florida
Marine mammal trainer, U.S. Navy Marine Mammal Program
Our graduates have pursued advanced degrees in many areas of marine science, including oceanography, education, marine policy and marine ecology. Recently, our graduates have attended:
Clemson University, spiny lobster ecology
Duke University, coastal environmental management
Florida Atlantic University, deep sea bioluminescence
Florida State University, coral reef ecology
Nova Southeastern University, marine biology and marine environmental science
Scripps Institute of Oceanography, marine biology and oceanography
SUNY–Buffalo, cognitive psychology/animal cognition
University of Canterbury, New Zealand; marine zoology
University of Delaware; marine policy
University of Oregon, marine biology
University of South Florida, cancer research using marine bioproducts
Washington State University, marine biology