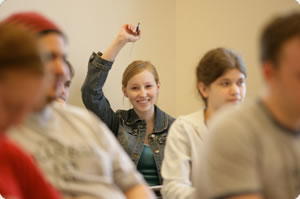 Take a look at what past grads from Witt have done with their majors – internships, grad school programs, and first jobs after graduation.  It's not always as cut and dried as you think; a Liberal Arts degree has a lot of flexibility!
What Past Witt Mathematics Students Have Done
Develop critical and logical thinking skills
Mathematics is…
the study of posing and solving problems, some of which may have an obvious connection with the world of numbers, while others seem to have little to do with numbers;
determining what's relevant and how to use this information logically and analytically;
finding tools to tackle significant and interesting problems; and
the challenge of discovery.
The formal methods used in mathematics today were first introduced by the ancient Greeks over 2,000 years ago, and so in one sense, mathematics is the oldest of the liberal arts and sciences. Even then, people realized the centrality of mathematics to liberal education. The phrase "Let no one ignorant of mathematics enter here" is said to have graced the doorway of Plato's Academy in ancient Athens.
At Wittenberg, the study of mathematics will train your mind in critical and logical thinking, challenge your intuition and stretch your imagination. The mastery of mathematics is central to the sciences, both natural and social, and provides excellent preparation for any career field, technical or non-technical.
Degrees offered
B.A.: Mathematics
B.S.: Mathematics
Minor: Mathematics
Minor: Statistics
Students who pursue a Bachelor of Arts (B.A.) concentrate in one of three tracks: mathematics, applied mathematics or statistics. Those who wish to double major with another discipline, such as computer science, physics or economics, often choose this degree program. The Bachelor of Science (B.S.) is a more in-depth program that requires several courses in other disciplines. The mathematics minors complement other quantitatively-oriented majors.
Courses
112: The Language of Mathematics
120: Elementary Functions
127: Introductory Statistics
131: Essentials of Calculus
201: Calculus I
202: Calculus II
205: Applied Matrix Algebra
210: Foundations of Analysis
212: Multivariable Calculus
215: Differential Equations
221: Fundamentals of Geometry
227: Data Analysis
228: Univariate Probability
260: Comp. Models & Methods
271: Discrete Math Structures
320: Numerical Analysis
327: Statistical Modeling
328: Mathematical Statistics
337: Statistical Design
345: Optimization
360: Linear Algebra
365: Abstract Algebra
370: Real Analysis
460: Senior Seminar
499: Honors Thesis/Project
Research
We encourage students to pursue research projects in their areas of interest; some present the results of their work at professional meetings such as the Ohio Section meeting of the Mathematics Association of America. Recently, several students have participated in the Research Experiences for Undergraduates program funded by the National Science Foundation.
Examples of recent student research projects include:
"Fractal Image Compression and Integrated Function Systems"
"Non-Euclidean Geometric Models with Historical Analysis"
"Entropy and Data Compression in Images"
Placement
Some students pursue employment upon graduation and have held positions with companies and organizations such as:
Federal Reserve Bank (New York City), economic research
Procter & Gamble, systems administrator
Shell Exploration and Production – exploration geologist
U.S. Army Special Operations Command, operation research analyst
U.S. Office of Personnel Management, statistician
Nationwide Insurance, computer programming intern
Some of our majors pursue graduate study and have recently attended:
North Carolina State University
The Ohio State University
Carnegie Mellon
Bowling Green State University
University of Massachusetts – Amherst
George Washington University
Resources
All classrooms in the mathematics and computer science department have a demonstration computer for use during lectures. Two classrooms are equipped with microcomputers configured for student use during classes and labs. All computers are connected to the university network.
Colloquia
Current students and visiting speakers participate in the department's annual colloquia series. Recent talks include:
"Artificial Intelligence: What and Why," Steven Bogaerts
"Episodic Memory for a Cognitive Architecture," Andrew Nuxoll
"A Computational Study: The Formation of a Useful Thiazole Monomer," Tim Verrilli '08
"Stereo Visualization and its Application for Fun and Viewing Scientific Data," Dr. Mark Turner, AVETeC/University of Cincinnati
Get involved
To supplement traditional course work, our department offers several activities for students throughout the year. The Wittenberg student chapter of the Mathematical Association of America (MAA) serves as our math club. The department annually participates in a five-college math contest with other schools in the area.