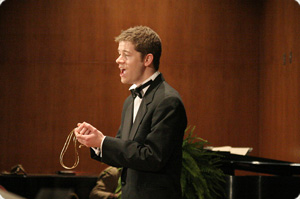 Take a look at what past grads from Witt have done with their majors – internships, grad school programs, and first jobs after graduation.  It's not always as cut and dried as you think; a Liberal Arts degree has a lot of flexibility!
What Past Witt Music Students Have Done
Music performance, education and composition
For over 100 years, Wittenberg has prepared students for careers in music education, performance, church music, composition, arts administration and other fields. The department of music has been a member of the National Association of Schools of Music since 1931.
Generous merit scholarships
Wittenberg maintains a long tradition of offering generous merit-based scholarships to outstanding musicians, based on auditions, available to all students regardless of major. Application forms and complete guidelines are online at http://www.wittenberg.edu/music/audition.
Large and small ensembles
Vocal ensembles
Wittenberg Choir: Wittenberg's touring choir, performing repertoire from the Renaissance to 20th century.
Wittenberg Singers: A women's choir, for students and members of the community.
Opera Studio: A small group offering experience in performing scenes from major operas.
Music Theatre: Joint productions of the music department and the department of theatre and dance.
Instrumental ensembles
Wittenberg Symphonic Band: The largest instrumental group, with woodwinds, brass and percussion.
Wittenberg Chamber Orchestra: A string ensemble performing music from all style periods.
Flute Choir: A flute ensemble.
Handbell Choir: Performs concerts and for holiday services and festivals.
Jazz Ensemble: A full big band that performs swing, Latin, and rock fusion.
A wide range of degrees
Wittenberg's music degrees offer students a wide variety of career paths. Wittenberg is one of the only colleges in Ohio to offer three different undergraduate degrees in music:
Bachelor of Music Education: Focuses on teacher training for choral, instrumental and general music, leading to comprehensive licensure for public school instruction, after completing the minor in education.
Bachelor of Arts with a Major in Music: Allows students flexibility in course selection in music history, theory and music lessons. Students often combine this degree with a major or minor in another discipline, such as management or psychology.
In addition, a Music Minor is possible.
Modern facilities
John M. Chowning Laboratory for Music and Technology
Composer, inventor and alumnus John Chowning (BM '59) provided financial assistance for a computer lab to support composition students in studio work and music production and for teaching music technology. The lab is equipped with Macintosh computers, MIDI keyboards, software for notation, sequencing, ear training, and music theory, synthesizers (Kurzweil, Yamaha, Roland), a MIDI wind controller, and tools for composing for video.
Evelyn and Harold Figley Electronic Keyboard and Computer Lab
The financial assistance of the Rev. Harold Figley (in memory of his wife, Evelyn, BM '52) made possible a 16-unit Kurzweil electronic keyboard lab, each keyboard with a full 88-note range, 10 preset sounds and weighted keys, networked together through a MIDI programmable instrument.
Krieg Hall and Weaver Chapel
Wittenberg's music department is located in Krieg Hall, where students have access to an impressive array of instruments:
57 pianos, including 23 grands
five pipe organs
two harpsichords
four-octave White Chapel handbells
100 orchestral instruments
Students and guest artists perform in Wittenberg's 135-seat Krieg Concert Hall, equipped with digital recording equipment. A 51-rank, 3000-pipe Reuter organ and a 9-foot Bösendorfer concert grand piano are available in Wittenberg's Weaver Chapel.
Faculty
Music faculty include distinguished performers, composers, and authors of books and scholarly articles. Faculty have performed on ABC World News Tonight and National Public Radio, won the Metropolitan Opera National Council Auditions, performed with Houston Grand Opera and at Lincoln Center, toured Japan with the Eastman Wind Ensemble, performed throughout Europe and Asia, and published music compositions and widely used textbooks. Complete biographies are available at http://www.wittenberg.edu/academics/music/faculty.html.
Learning off campus
Music students have completed internships in arts management with arts councils and symphony orchestras, as well as in computer technology. Students have undertaken study abroad opportunities in England, Germany, Austria, Canada, Italy and elsewhere.
After graduation
Wittenberg's music graduates have pursued a wide variety of music careers, from performance to education to church to arts management. Our graduates have:
Won first prize in the Metropolitan Opera District Competition.
Performed with the Boston Lyric Opera, San Francisco Symphony Chorus, Lyric Opera Cleveland, Pittsburgh Opera, Opera San José and Cleveland Opera.
Served as director of development for the National Symphony Orchestra.
Served as general manager of the Chicago Theatre.
Taught at the Boston and New England Conservatories, and major universities throughout the U.S.
Accompanied singers from the Metropolitan Opera, New York City Opera, Chicago Lyric Opera, Santa Fe Opera, San Francisco Opera, Houston Opera, Covent Garden Opera and Vienna State Opera.
Played piano and synthesizer on the Grammy Award winning cast album of Broadway's Cats.
Published hundreds of music compositions, as well as CDs, books and professional articles.
Invented frequency modulation sound synthesis at Stanford University.
Taught instrumental and vocal music in both public and private schools around the country.
Held major positions in church music from coast to coast.
Students have done graduate work at many major universities and conservatories, including Boston University, Case Western, University of Chicago, Cleveland Institute, Columbia, University of Illinois, University of Indiana, New England Conservatory, Northwestern, Notre Dame, Peabody, SMU, Stanford, University of Texas/Austin, University of Wisconsin and Yale.