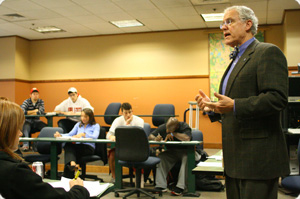 Take a look at what past grads from Witt have done with their majors – internships, grad school programs, and first jobs after graduation.  It's not always as cut and dried as you think; a Liberal Arts degree has a lot of flexibility!
What Past Witt Political Science Students Have Done
Create a focus
At Wittenberg, the study of political theory, foreign and public policy, international relations, governmental structures and political parties is broken down into four concentration areas: comparative politics, international relations, political theory and law, and American politics. As a student of political science, you will work with your adviser to choose electives from related academic areas (i.e. economics, history, social psychology, geography or sociology) to create the program that will complement the concentration you choose.
Many of Wittenberg's political science students study abroad or participate in summer internships — in the United States and abroad. Many internship placements in Washington, D.C., available each year, are extremely popular and offer unparalleled experience.
Degrees offered
B.A.: Political Science
Minor: Political Science
Required classes
101: American National Government
102: Comparative Politics
260: Methodology
Political Theory: either 211, 212, 215 or 216
Area I: Comparative Politics
202: Comparative Political Economy and Public Policy
204: Russian Politics
205: Chinese Politics
208: Moscow: Politics and Planning
209: Topics in Comparative Politics
210: East Asian Politics
302: North American Politics|
303: Politics in Developing Nations
305: West European Politics
309: Advanced Comparative Politics
Area II: International Relations
251: International Relations
252: International Organizations
253S International Political Economy
259: Topics in International Relations
350: American Foreign Policy
352: Russian Foreign Policy
354: Chinese Foreign Policy
355: East Asian Foreign Relations
359: Advanced International Relations
Area III: Political Theory and Law
211R: Ancient & Medieval Political Philosophy
212: Modern Political Philosophy
215: American Political Thought
216: Family Values: The Politics of Virtue, Care and Equality
217R Ideology and Identity in Polish Culture (field study)
219: Topics in Political Theory
227: Criminal Law and Politics
315: Feminist, Postmodern Thought
319: Advanced Political Theory
322: American Constitutional Law
Area IV: American Politics
221: State and Local Government
222: Urban Politics
223: Introduction to Local Government Administration
224: The Presidency
229: Topics in American Politics
230: Campaigns and Elections
232: Public Opinion
234: Black Politics
236: Media and Politics
320: Public Administration
321: Public Policy
323: The U.S. Congress
329: Advanced American Politics
332: Political Parties and Interest Groups
Other Courses
460: Political Science Seminar
490: Independent Study
491: Internship
499: Honors Thesis
Gain experience
Students may choose from a variety of internship opportunities:
Local internships with the Common Pleas Court judges, the Planning Commission, the City Manager, police department, law firms, social welfare agencies or in political campaigns.
Wittenberg Local Government Management Internship Program
Internship experiences in the Lutheran College Washington D.C. Semester Program include: the White House, executive agencies, interest groups, media organizations and Capitol Hill. Recent sites include the White House, ABC - Primetime Live, the Attorney General's Office, the Institute for Mental Health Initiatives and the D.C. Superior Court Social Services.
Study/work abroad: Several political science majors have recently served as interns with members of the Irish and British parliaments and the U.S. Embassy in Belarus. Our political science students have also studied in academic programs in Austria, China, England, France, Japan, Mexico, Russia, Denmark, Sweden and other countries. About one-third of our majors participate in either the Washington program or an overseas program.
Get involved
Pre-Law Association: This group is for students interested in law school. Speakers discuss law and the law school application process.
Student Democrats and College Republicans: These political party organizations sponsor speakers and work on election campaigns.
Pi Sigma Alpha: This honors society is open to political science students. Its goal is to encourage scholarship in political science and organize activities for its members and the entire department, which bring about greater student-faculty interaction.
Placement
Many political science majors choose to pursue employment upon graduation. Some of their first jobs include:
U.S. Department of State, Foreign Service Officer
National Republican Congressional Committee, direct response production assistant
Westfield Companies, marketing manager
Burke, Inc., data collections manager
Congressman Dave Hobson's District Office, caseworker
Paine Webber, investment executive
U.S. Department of Justice, information specialist
Senator Richard Lugar, staff assistant
Transportation Management Association, Delaware County, executive director
Metropolitan Human Services Commission, human services planner
Carnegie Capital Asset Management Co., securities analyst
Recent graduates have been accepted by law schools such as:
Harvard University
University of Arizona
Emory University
Indiana University
The Ohio State University
University of Pittsburgh
Vanderbilt University
University of Virginia