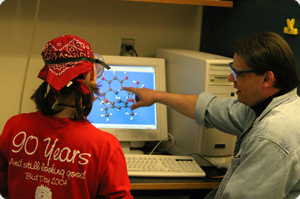 Strong science program combined with hands-on experience
At Wittenberg, you will receive a strong foundation in both the sciences and the liberal arts—an excellent foundation for admission to medical or other health profession schools. Our program is designed to give you opportunities to excel in academics, research, internships and co-curricular activities.
Hands-on experience in laboratory classes helps you apply theory to practice and develop critical thinking and research skills. Professors teach all courses and labs, giving you a chance to interact easily with faculty who can mentor independent research projects and eventually write letters of evaluation to professional or graduate
school programs for you.
Your experiences outside the classroom will prepare you well for health profession school. You might volunteer in a local emergency room, nursing home or the Humane Society; intern with a Springfield physician, dentist or occupational therapist; or participate in student groups such as the Pre-Health Professions Club or Habitat for Humanity. All of these experiences combine to give you valuable leadership and communication skills.
Programs offered
Wittenberg offers all courses required for admission to health professional schools including medicine, dentistry, optometry, veterinary medicine, chiropractic medicine, podiatry, physician assistant, occupational therapy, physical therapy and public health. We also offer all required courses to prepare students for standardized admission tests (MCAT, DAT, OAT, PCAT and GRE).
Occupational Therapy*:
Wittenberg has a 3-2 cooperative program with Washington University in St. Louis. Students attend Wittenberg for three years, completing all prerequisite courses and general education requirements and then transfer to Washington University. After completing the first year at Washington's School of Occupational Therapy, students receive a bachelor of arts from Wittenberg. After an additional year, a master of science (M.S.) in occupational therapy is awarded by Washington University, and board certification can be obtained.
*Although Wittenberg students are given preferential consideration in the application process, admission to these programs is not guaranteed; however, our students have achieved a 100% placement rate in recent years.
Advising
The pre-health advisers work closely with each pre-health student and conduct annual advising sessions to discuss academic performance, extracurricular activities and health-related experiences. Wittenberg offers a free MCAT/DAT/OAT/PCAT review program run by our students with the help of faculty in the science departments, and the KAPLAN MCAT review course for a fee.
Internships
We strongly encourage you to gain practical, hands-on experience in your field of interest, not only because most medical and professional schools require this, but also because it helps you identify a career path. Community Mercy Health Partners in Springfield provides formal internship opportunities in our local hospital system, and additional healthcare practitioners, including dentists and veterinarians, have formally agreed to mentor our junior and senior students in their private practice.
Research
Regardless of major, students can pursue independent research projects and honors theses, often working one-on-one with faculty members and presenting their work at academic conferences. A research project gives you a chance to explore in depth a topic that interests you. The experience and skills you gain conducting independent research will make you more valuable to professional schools and employers.
Students regularly publish academic papers and present their work at academic conferences such as the Ohio Academy of Science and the National Conference for Undergraduate Research.
Examples include:
MRI study concerning the permanent morphological changes in the brain related to posttraumatic stress disorder
Histological examination of human cancers from samples obtained at local hospitals using electron microscopy
Histological study of reptilian male reproduction as a model of toxicological studies of disruptions to spermatogenesis
Relationship between the molecular structure and activity of antioxidants to develop a model that can be applied to the development of new therapeutic compounds
Get involved
Pre-Health Professions Club:
For students interested in the health sciences, this organization sponsors seminars with local doctors, health professionals and speakers from professional schools. The club has brought the Red Cross to campus to certify members in CPR and first aid. Students administer full-length practice MCATs and enlist faculty to conduct review sessions for the MCAT, OAT, DAT and PCAT.
Placement
Although admission to medical, dental and other health profession schools is very competitive, Wittenberg students have enjoyed a high placement rate. While the national average for medical school acceptance is 35 percent, 74 percent of Wittenberg students who applied to medical school in the last 15 years were accepted within two years of graduation.
Our students also have done exceptionally well in admission to other health profession schools, with virtually 100% placement of students into optometry, pharmacy and occupational therapy programs in recent years. Recent graduates have attended:
Case Western Reserve University, dentistry, medicine
Cornell University, veterinary
Dartmouth College, medicine
Indiana University, dentistry, medicine
Illinois College, optometry
Loyola University, medicine
Medical College of Ohio, medicine, physician assistant
Northwestern, medicine
The Ohio State University, dentistry, medicine, optometry, pharmacy, veterinary
The Pennsylvania State University, medicine
University of Pennsylvania, optometry, veterinary
Purdue, veterinary
Washington University, occupational therapy, physical therapy