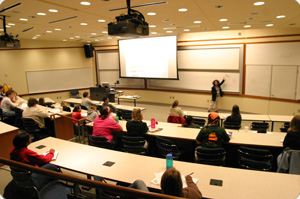 Take a look at what past grads from Witt have done with their majors – internships, grad school programs, and first jobs after graduation.  It's not always as cut and dried as you think; a Liberal Arts degree has a lot of flexibility!
What Past Witt Psychology Students Have Done
Rigorous courses with an emphasis on experiential learning and application
At Wittenberg, the study of animal and human behavior provides the basis for careers in psychology, medicine, law and business. Our curriculum provides a solid foundation in the major subdisciplines of psychology as well as upper-level courses that encourage you to engage in critical thinking, design and carry out your own research projects, and develop the writing and oral skills to communicate your findings to a variety of audiences. Our courses also provide many opportunities to apply your knowledge and skills in applied settings and to gain practical experience in relevant work settings.
Proseminar courses introduce you to the biological basis of behavior, principles of learning, memory and cognition, developmental changes, psychological testing, mental health and mental illness.
Advanced courses explore child and adolescent development; personality; psychopathology; sensation and perception; health; community; industrial and organizational psychology; the psychology of other cultures and of language.
Laboratory courses provide hands-on experience with animal surgical procedures, design and data collection techniques, and the development of psychological measures to use in research.
Research seminars facilitate collaborative work with faculty on publishable research projects.
The integration of coursework, research seminars and internships is designed to help you match your interests to your goals while giving you the opportunity to amass valuable experiences from which your abilities can be demonstrated.
Degrees offered
The bachelor of arts in psychology is often pursued by students interested in careers in clinical or counseling psychology, social work or research careers.
The bachelor of science in psychology is typically pursued by pre-health students or those interested in psychiatry, nursing, physical or occupational therapy degrees, those with a second major or minor in one of the other sciences, or those interested in pursuing graduate training in the neurosciences.
A minor in psychology is available.
Faculty
Our psychology professors—well-trained experts in their fields—are dedicated to your education and seek innovative pedagogy to engage you in the learning process. Over half of our psychology faculty has received regional or university recognition for excellence in teaching, and all serve as academic advisers.
Facilities
Zimmerman Hall houses classrooms, faculty offices, two microcomputer laboratories, and experimental rooms interconnected by one-way vision screens. Several dedicated laboratory spaces allow for the study of cognitive neuroscience, psychological phenomena in other cultures, behavioral neuroscience, and elementary learning processes in animals, among others. Several local agencies allow opportunities for the observation of and interaction with children of all ages as well as populations with mental health challenges.
Gain experience
Many courses require service learning or provide opportunities to spend time at a local agency to fully appreciate the information you are learning in class. For example, students studying adult abnormal psychology might work at a soup kitchen or a halfway house for adults with schizophrenia. Those studying adolescent development might work at a local high school or a residential facility for troubled youth.
Advanced students find internships in the Springfield community or nearer home (during the summer) to gain both practical and research experience in areas such as mental health, juvenile delinquency or forensic psychology. To expand their experiences with settings and/or different-aged populations, students often participate in more than one internship. Working in a human resource office, hospital or guidance clinic or working with emotionally disturbed children, adolescents recovering from drug abuse, or adults with schizophrenia are just some of the many hands-on opportunities available. Recent internships include:
Clark County Board of Mental Retardation and Developmental Disabilities
Project Woman
Institute for Health Initiatives (D.C.)
Child Adolescent Family Center
Montgomery County Probation Department
Mercy Hospital Physical and Occupational Therapy
Springfield City Police Department
NYU Medical Center
Study abroad
Our major requirements are designed with flexibility so that students may study abroad. Our students have studied in England, Denmark, Australia, Scotland, Wales, Ireland, Italy, Spain, Japan, Germany, Korea, Kenya, Greece and Austria.
Research
We encourage students to engage in research projects independently or with faculty. Recently, students have investigated such topics as how rejection sensitivity may lead to dating violence; how depression may coexist with aggression in children; and how serotonergic agents may help eliminate compulsive eating behavior. Students present their research findings at regional and national conferences and are often co-authors of publications in peer-reviewed journals.
Find your field
Many students attend graduate school to pursue an area of psychology (counseling, clinical, industrial, sports or rehabilitation counseling) or a field such as hospital administration, management, nursing, occupational therapy or social work. Recent graduates pursued graduate school at:
American University
Boston College
University of California - San Diego
University of Chicago
Colorado State University
Columbia University
Georgetown University
Georgia School of Professional Psychology
University of Massachusetts
Miami University
University of North Carolina
The Ohio State University
University of Pittsburgh
Purdue University
University of Southern California
Xavier University
Yale University
Our psychology degree also provides excellent preparation for employment. Recent graduates found jobs such as:
AmeriCorps, victims' associate advocate
Boston Sports Channel, marketing coordinator
Eckard Family Youth Alternatives, chief counselor
Job Link, job support specialist
Lutheran Volunteer Corps, homeless shelter worker
Mental Health Center of Boulder, adolescent care worker
Northeast Mental Health Center, case manager
Peace Corps, health/nutrition volunteer
Ruder-Finn Public Relations, staff assistant
St. Andrew's Place, counselor
Village of Bronxville, NY, youth council coordinator
Get involved
Psi Chi: Wittenberg boasts a charter chapter of this prestigious honorary in psychology.