Campus Recycling News
What happens to our recycling here at Wittenberg?
Student Sustainability Coordinator Robby Starinsky visits our recycling processing facility, snaps the pictures below, and provides an overview of the recycling process.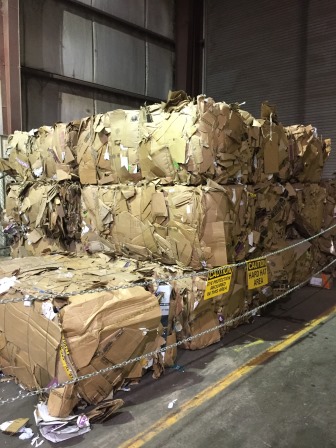 New bins in the classroom
Before:
Most classrooms at Witt did not have a recycling bin.
The few existing recycling bins that were in the classrooms were barely used because they were not clearly marked or in a clear spot.

After:
In late November 2013, a group of student, staff, and faculty volunteers, organized by Dr. Sheryl Cunningham, went through every academic building and put brand new trash and recycling bins in the classrooms.
A sheet was taped above them giving information on what can or cannot be recycled.
Now it is more convenient to recycle throughout every building, so we should hopefully see an improvement in our numbers.
 

Recycling numbers improved
In 2008, our recycling, as a percentage of total waste, was 8.3%. As of 2013, our recycling percentage has increased to approximately 10.9%. We hope to improve this percentage with the addition of the new recycling bins all around campus. This percentage is still far below our goal of at least 20%, which will hopefully come with more campus-wide awareness.

 

 
Recycling Numbers in the Beginning
| | |
| --- | --- |
| | In the first months of our campus-wide recycling effort, we  managed to divert more than 10 tons of material from a landfill. Further, the redistribution of recycling bins made possible by the single stream approach led to a clear uptick in our recycling as a percentage of total waste.  Our overall average for spring 2008 was 7.3% and our average for fall 2008 hit 9.7%.  Now the slightly bitter pill: that number could be much higher. Even at around 10%, our campus lags behind the 32% that the EPA reports for the average American household. |
The Campus Makes the Shift to Single-Stream Recycling
| | |
| --- | --- |
| An assessment of our recycling effort at the end of spring 2008 (the first semester of campus-wide recycling) determined that bin placement was one of the key weaknesses of the program. One option to correct this shortcoming would have been to purchase more bins, but the problem with this alternative is that we aren't yet making full use of the bin capacity we already have. While trash receptacles get emptied daily, most recycle bins aren't unloaded more than once or twice a week. With that reality in mind, the Recycling Program opted for a single-stream collection method in which all of the material acceptable in our recycling program—paper, glass, plastics, and metal—can be placed in the same bin. This move will help us make better use of our bin capacity while also allowing for wider distribution of the bins we currently have on hand. With any luck, the increased availability of receptacles will result in an uptick of our recycling figures. |      |
Cardboard Recycling Problems Identified by Computing Staff
A problem in our recycling became apparent over the summer when Myke Cooney, our Information Technology Coordinator, noticed that bags of nothing but cardboard, bags that she painstakingly filled herself, were being tossed into the compactor of our garbage truck. After some conversations with our Physical Plant and with Waste Management, I've learned that the Fairborn facility that receives our waste would prefer to have cardboard in significant dimensions separated from the paper waste stream—and, in fact, this is why we're asked to reduce our cardboard to a size that can fit through the narrow opening in our bins. What a hassle that would be for someone like Myke who routinely deals with large boxes! The final word I heard from Waste Management is that we can include larger cardboard in our single stream, but it's also clear that sending sizeable boxes down the pike is not ideal for the Fairborn plant. For the time being, we're unfortunately not set up for a separate stream of cardboard, so the plan is take advantage of Waste Management's willingness to accommodate us. And I'll continue to keep my eye out for some better options in addressing this problem.