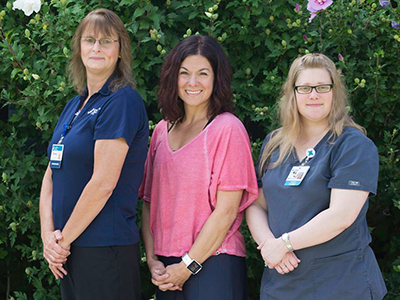 (Pictured - from left to right): Tammy Scheerschmidt, Trecia Narcelles, Melissa Day
The Wittenberg University Health Center is staffed by Trecia Narcelles, MS, CNP, and overseen by Mercy Health Partners. Staff members are dedicated to keeping you well so you may enjoy campus life and accomplish your educational objectives. Services are provided on a strictly confidential basis; no information is given to anyone without signing a release of information.
Services
Nurse practitioner appointments
Care of acute/and chronic illness/injury
Medication re-fills and follow-up appointments as needed
Clinical lab testing
Reproductive services including examination, lab tests, treatment, and education
Appointments encouraged but walk-ins are also welcomed
Self-care products
Health Education
Free health & wellness pamphlets
General Fees
A fee is charged for students to be evaluated and/or treated by the nurse practitioners.
There are fees for prescription medications, lab work and some medical treatments.
Private health insurance plans are direct billed.
Co-pay is due at the time of service.
Students need to bring photo ID and insurance card to the visit.
If a student does not have insurance, a $45 visit fee is due at the time of service.
If the student is covered by a private insurance plan that dictates the use of a specific laboratory or pharmacy, be sure that the student is aware of this fact.