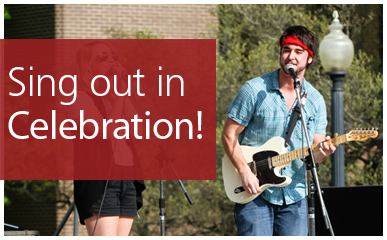 As the Inauguration of Laurie M. Joyner, Ph.D. nears, Wittenberg is reflecting its active, engaged learning environment with a number of events leading up to Friday's ceremony. The Inauguration itself will take place at 3 p.m. Friday, Sept. 7, in the Health, Physical Education and Recreation (HPER) Center, 250 Bill Edwards Drive, but the celebration has already begun.
After speaking at a chapel service on Tuesday, Sept. 4, Joyner met with Student Senate leaders and dined with her family in the Benham-Pence Student Center.  She heads outside next to celebrate the role athletics plays in the campus community during a Tiger Rally at 9 p.m. Wednesday, Sept. 5, as well as several other meet-and-greets with student organizations.
The slate of activities continues on Thursday, Sept. 6, and Friday, Sept. 7, including guided historical tours of downtown Springfield and the Wittenberg campus, a question-and-answer session on Twitter with Joyner, and a campus showcase and live band karaoke on Alumni Way. Joyner will also participate in a special Women in Leadership Luncheon on Thursday on campus. A complete schedule of all events can be found here.
Since community service is central to the university's mission, the week will culminate with a special event titled "Celebrating New Beginnings: Day of Service and Celebration" on Saturday, Sept. 8, in partnership with Springfield's Promise Neighborhood. Service projects include neighborhood beautification and work on Lincoln Elementary School's Commemorative Garden project, among many other opportunities. The evening will conclude with a celebration dinner, program and talent show.