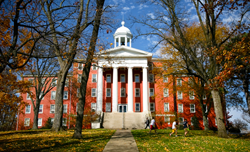 Springfield, Ohio – With the inauguration of Laurie M. Joyner, Ph.D., just a day away, distinguished guests are arriving on campus to participate in the celebration. Among them are 64 women who will join together during a special noontime luncheon in honor of Wittenberg's first woman president and to celebrate the leadership of women close to campus and on a national scale.
Following an opening welcome from Maureen Sheehan Massaro, associate vice president for human resources, special assistant to the president and chair of the inauguration steering committee, those gathered will have the opportunity to hear keynote remarks from Rita Bornstein, president emerita of Rollins College, a mentor and close friend of Wittenberg's new president. Bornstein will be introduced by Joyner, who previously served in several leadership capacities at Rollins, most recently as vice president for planning and dean of the college.
Alicia Sweet Hupp, Wittenberg class of 1982, president and CEO of Springfield-based Sweet Manufacturing, and a member of the university's Board of Directors, will then introduce two current students and three alumnae, who are leaving their own mark in the world, including former Ohio Lt. Governor Jennette Bradley, class of 1974, and K-12 education leader Hannah Powell Tuney, class of 2003. Each will provide some brief comments about their respective journeys.
The luncheon continues a weeklong series of inauguration-inspired events, which have included special meet-and-greets with the president, and a jam-packed Tiger Rally in support of Wittenberg scholar-athletes and the university's longstanding tradition of excellence in athletics.
Wittenberg will formally install Joyner during the inauguration ceremony at 3 p.m. Friday, Sept. 7, in the Health, Physical Education and Recreation Center, 250 Bill Edwards Drive. A campus-wide reception will follow the historic event.