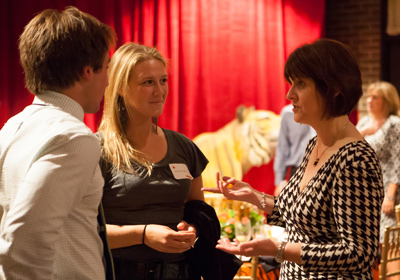 As part of the fall quarterly meeting of the university's Board of Directors, Oct. 4-6, scholar-athletes in individual sports were honored during a special dinner, Oct. 4.
"Tonight, we are pleased to have with us eight scholar-athletes representing our individual sports of cross country, tennis, swimming & diving, and golf," said Laurie M. Joyner, president.  "Many of these athletes are members of our athletic honor society, Chi Alpha Sigma, and those who are not are well on their way as admittance to the honor society occurs during junior year."
The scholar-athletes recognized were Molly King and Trevor Grandy (cross country); Kristin Wright and Sam Wilke (tennis); Sarah Wilson and Cameron Mackintosh (swimming and diving); and Savannah Fox and Craig Osterbrock (golf).
"It's important to take a moment to remind ourselves about our core enterprise -- our academic program – and within that program, the heart of our work -- our students," Joyner said. 
In addition to celebrating students, the dinner provided an opportunity for Board members to join in the momentum and excitement of serving Wittenberg during this important time in the university's history.